Roommate Agreement Basics
If you're about to get a new roommate, a Roommate Agreement can help keep everything civil. There's a lot to sort out when you're moving in with someone else: who's getting the master bedroom, who's cleaning what, and what is each person's share of rent - and whose job is it to turn in? While some of these issues are more important than others it's typically a good idea to have everything, big and small, resolved beforehand. A Roommate Agreement helps make living with others easier.
Use the Roommate Agreement document if:
You're moving in with a roommate.
You've found a new roommate for your home or apartment.
---
<![CDATA[ ]]>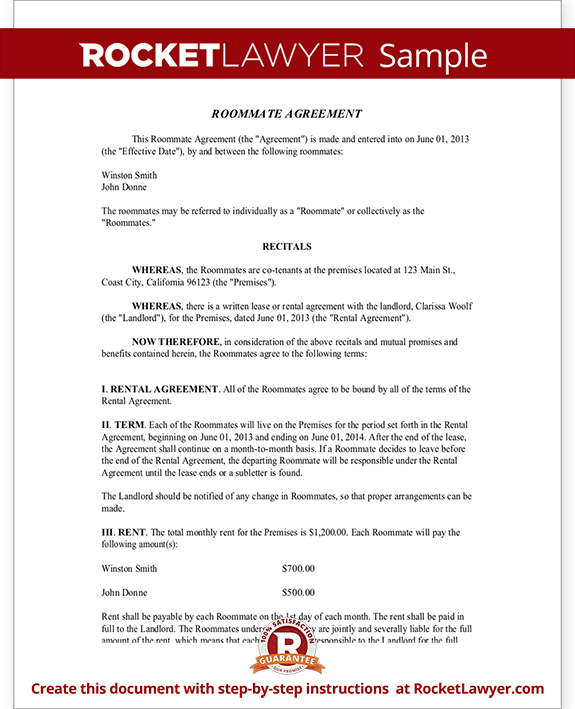 View Sample
Sample Roommate Agreement
More than just a template, our step-by-step interview process makes it easy to create a Roommate Agreement.

Save, sign, print, and download your document when you are done.

Sample Roommate Agreement
Our step-by-step interview process makes creating a printable Roommate Agreement easy.
Make Document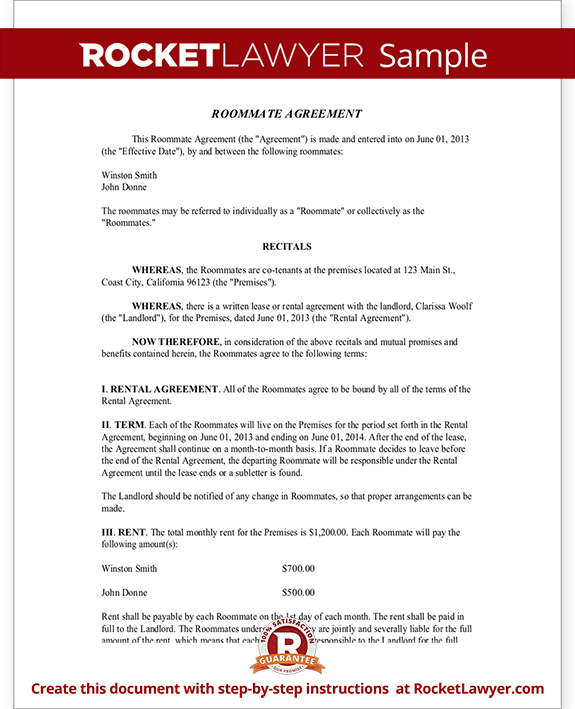 ---
Having a roommate is a great way to save money, and a Roommate Agreement can be a good way to ensure it all goes smoothly. Figuring out all the details ahead of time can help you avoid future problems - and having the agreement in writing can help document everything you discussed in case of any disagreements later on. Laying out the groundwork can be a smart idea; after all, no one wants to be surprised by their rent payment or any unexpected restrictions or obligations. It doesn't matter if you're moving in with your best friend or a total stranger, penning a Roommate Agreement is a great start to a long lasting arrangement.

Other names for this document: Roommate Agreement Form, Roommate Contract