Remodeling Contract Basics
Before your contractor starts ripping out your 70's orange countertops, make sure you've drawn up the details for building your dream kitchen in a Remodeling Contract. If you're a contractor, a meticulous Remodeling Contract is your best protection from misunderstandings with an owner. Whether your project is a family home or a commercial space, draw up a Remodeling Contract to make it go smoothly.
Use the Remodeling Contract document if:
You are a licensed contractor who would like to provide a potential client with a written contract detailing the verbal agreements you have made concerning a remodeling job.
You are a homeowner and your home requires remodeling or improvement and you would like to hire a licensed contractor to complete the work.
---
<![CDATA[ ]]>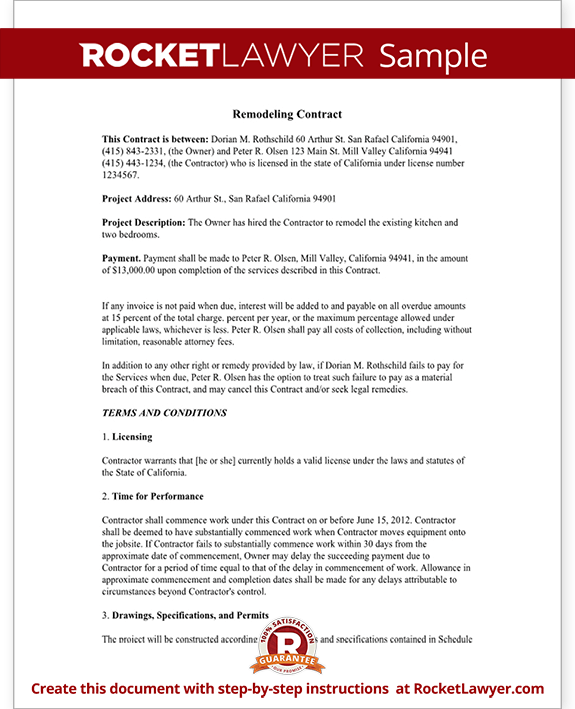 View Sample
Sample Remodeling Contract
More than just a template, our step-by-step interview process makes it easy to create a Remodeling Contract.

Save, sign, print, and download your document when you are done.

Sample Remodeling Contract
Our step-by-step interview process makes creating a printable Remodeling Contract easy.
Make Document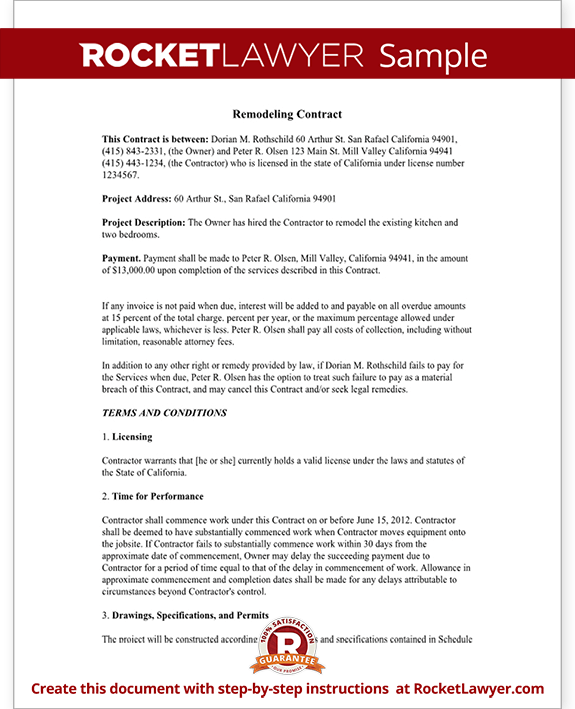 ---
Linoleum or hardwood? Porcelain tile or terrazzo? Modern or traditional? Who's handling the permits? There's a lot to consider when your property is getting a facelift. A Remodeling Contract helps keep track of it all, from materials to timeline to payments. Often, there are overruns, so you'll need to set out a detailed budget up front and talk about how you'll handle changes. If the project is complex, you can't keep all the details in your head. A gaffe can be costly. Don't start swinging hammers until you've formalized the scope of the work with a signed Remodeling Contract.

Other names for this document: Remodeling Agreement, Remodeling Service Contract, Remodeling Contract Form