You've done it! You've invented something everyone needs and the world is going to beat a path to your door. With a Provisional Patent Application, you can put your name on your invention, and protect the time and money you invested if your provisional patent status is approved. We'll help you create a Provisional Patent Application to file with the U.S. Patent and Trademark Office.
Use the Provisional Patent Application document if:
You have an invention and want to prevent others from copying it.
You want to secure the first official patent application filing date for your invention.
You want time to start using "patent pending" but aren't ready to apply for a full Non-Provisional Patent yet.
With the time you've spent perfecting your invention, it's worth taking a little more time protecting it. You'll need to file for a patent so you can prevent it from being copied. Filing for a Provisional Patent is a popular option. This application includes a cover sheet, a written description (known as the specification) and a series of drawings that describe in detail the structure of your invention and how it operates. Although you'll still need to file the full Non-Provisional Application within 12 months, the Provisional Application is easier to complete and since it takes less time to put together, could establish an earlier filing date (which is important if you want to beat others to the idea). After you've filed the Provisional Patent Application, you may also use the term "patent pending." Many inventors prefer to file the Provisional Patent first, because it saves their filing date, giving them more time to get the Non-Provisional Patent done, which is generally more involved.

Other names for this document: Provisional Application for Patent, Provisional patent Application Form
---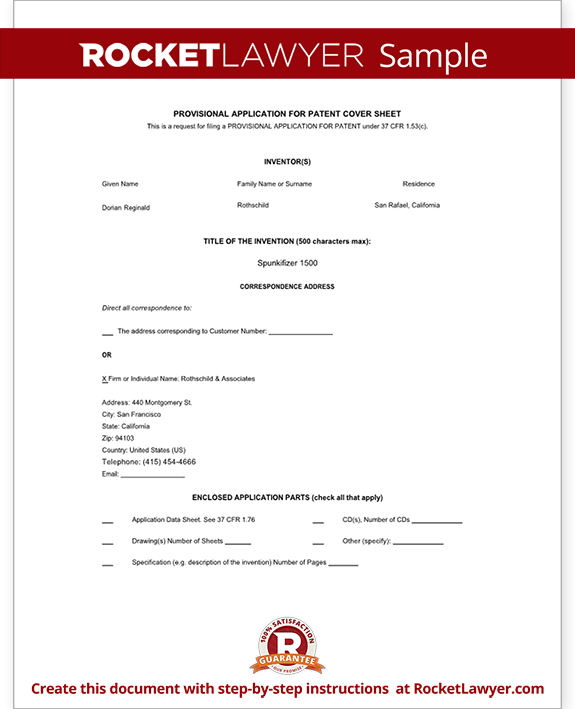 View Sample
Sample Provisional Patent Application
More than just a template, our step-by-step interview process makes it easy to create a Provisional Patent Application.

Save, sign, print, and download your document when you are done.
This document is sometimes called a Provisional Application for Patent Cover Sheet.