When you have the chance to sell the patent for your new invention, a Patent Assignment acts your bill of sale. If you're the one taking over the rights to a patent, you'll want to have all the details on the record. It doesn't matter if the patent is not yet registered - you can still use this Patent Assignment to complete the deal.
Use the Patent Assignment document if:
You are buying or selling a patent or a patent application.
You want to add, remove, or change the name of the patent owner.
A Patent Assignment is similar to transferring ownership of a car - you need to do the paperwork before it's official. It comes into play whenever a patent is transferred or sold. Maybe you own a company that's staffed by innovative employees. You have a right to their work-related ideas and products, but if you want to sell them, you'll have to jump through the right legal hoops. If you're an inventor, you've invested time in your new gadget, so you want to make sure it pays off. A Patent Assignment gives patent owners the option of retaining part of their rights. More than one person can own a patent, so you can also use this document to add or remove owners. If you're going into business with someone, it's a good idea to work out in advance who owns what share. We'll walk you through all the steps you need to transfer, buy, or sell a patent.

Other names for this document: Patent Assignment Form, Patent Assignment Contract
---
<![CDATA[ ]]>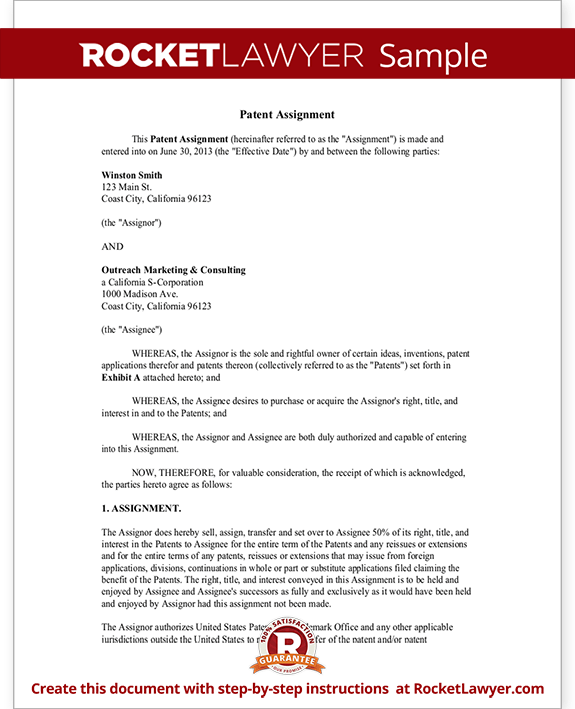 View Sample
Sample Patent Assignment
More than just a template, our step-by-step interview process makes it easy to create a Patent Assignment.

Save, sign, print, and download your document when you are done.

Sample Patent Assignment
Our step-by-step interview process makes creating a printable Patent Assignment easy.
Make Document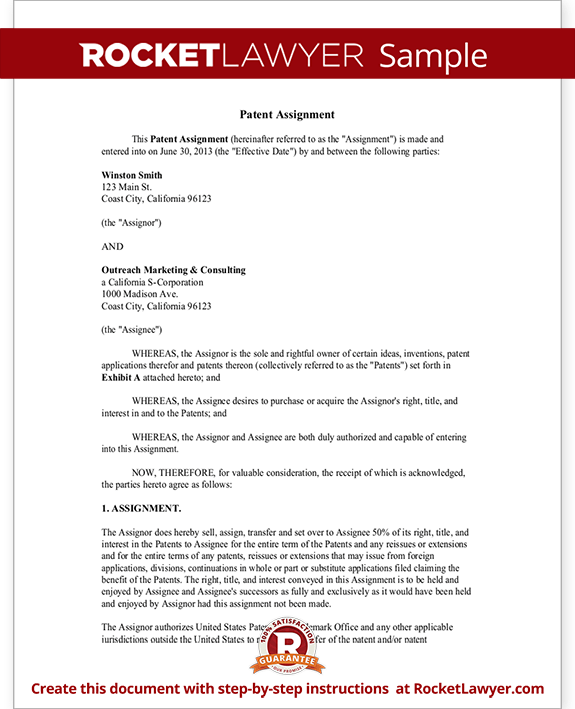 Why choose Rocket Lawyer?
Legally reviewed
Researched by lawyers
and legal staff.
Specialists to help
We're here to answer your
questions.
Free Trial
Your document is free with your subscription.
Our quality guarantee
We guarantee our service is
safe and secure.