Organizational Consent Basics
When you're working to jump through the right legal hoops to make your new corporation official, creating an Organizational Consent document can get you there faster. In most states, after you've drawn up your bylaws, you'll need to hold a meeting of the incorporators or directors to approve the bylaws and other details before you can add Inc. to your name. This Organizational Consent document allows you to get everyone on the same page without getting them all into the same room.
Use the Organizational Consent document if:
You're starting a new business.
You're an incorporator or initial director in charge of documentation.

---
<![CDATA[ ]]>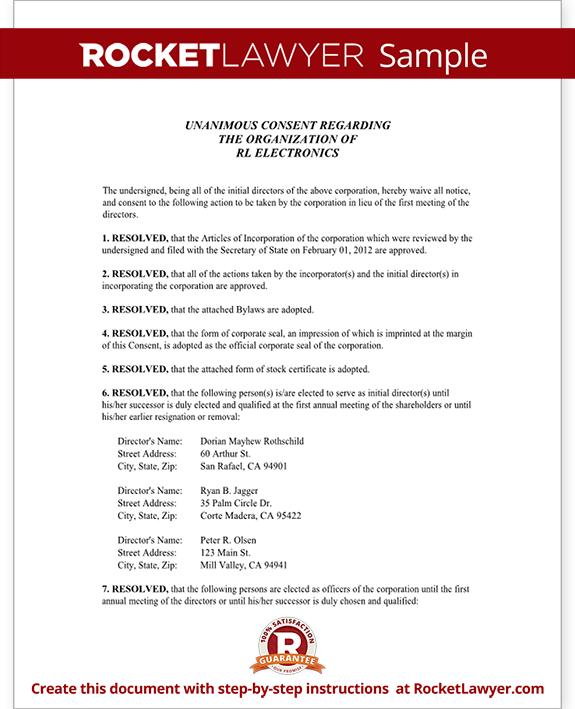 View Sample
Sample Organizational Consent
More than just a template, our step-by-step interview process makes it easy to create an Organizational Consent document.

Save, sign, print, and download your document when you are done.
This document is sometimes called a Unanimous Consent form.

Sample Organizational Consent
Our step-by-step interview process makes creating a printable Organizational Consent easy.
Make Document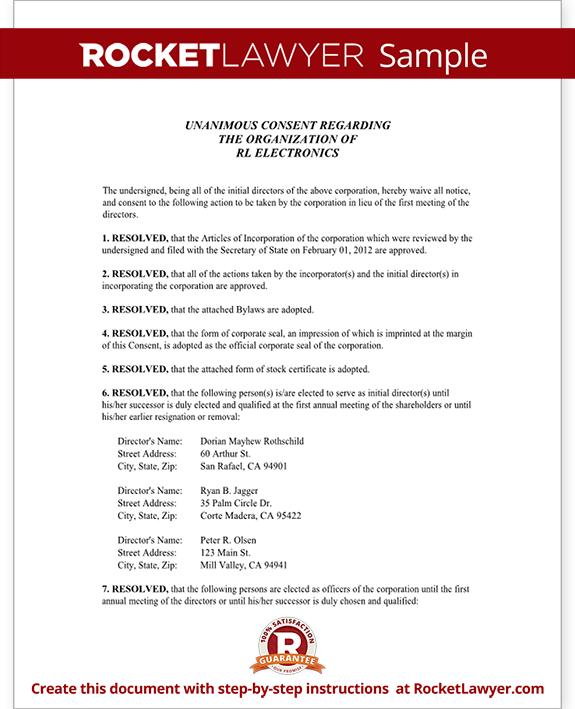 ---
You've got a lot on your plate when forming a new business. In most states, you need to define the structure, appoint or elect directors and officers, and unanimously approve all the details at an organizational meeting in order to incorporate your new venture. By having all the incorporators and initial directors sign an Organizational Consent document, you can bypass that meeting requirement altogether. Maybe you're an incorporator, or maybe you're one of the founding directors, but it may take a while to get everyone together for that unanimous vote. Or, if you are the sole incorporator and have not named any initial directors, an Organizational Consent form saves you the exercise of issuing a formal notice and scheduling a meeting with one person-you. This Organizational Consent form guides you in laying out some critical details for your new corporation, including naming the directors and elected officers, whether corporate stock will be issued, and who the shareholders will be. It must be signed by all the incorporators and initial directors to become official. An Organizational Consent form can help you cement a solid small business formation.

Other names for this document: Board Resolution, Organizational Agreement, Resolution of the Board of Directors