Music License Agreement Basics
Once you've found the perfect song or musician for your production, and you've gotten the go-ahead from the artist or copyright owner, you'll need to create a Music License Agreement. If you're a musician with the chance to sell the rights to your tune - whether you're being courted by a music company, television producer or advertiser - a well-written Music License Agreement ensures you'll get your fair cut.
Use the Music License Agreement document if:
You own rights to property, such as music, songs, video, which another party will be allowed to use in its multimedia production.
Wish to acquire the right to use certain property, such as music, songs, video, owned by one person or organization.
Skimping on a Music License Agreement can get you in trouble. Most music is copyrighted, and if you want to use a tune in a multimedia production, you have to play by the rules. Every musician has heard about artists who have lost control of their rights while their songs play on. A Music License Agreement protects both parties when you settle in advance on whether to pay royalties as a percentage of revenue, for a set amount for each use, or under some other arrangement. Where will the song be used, and for how long? Can it only be used in a specific geographical area? Can the buyer transfer the rights without the composer's consent? Can the song be duplicated? You can lay it all out in a Music License Agreement. Whether your pick is a Top 40 hit, golden oldie or obscure indie, this simple and flexible document can help protect your interests.

Other names for this document: Music Licensing Agreement, Music License Contract
---
<![CDATA[ ]]>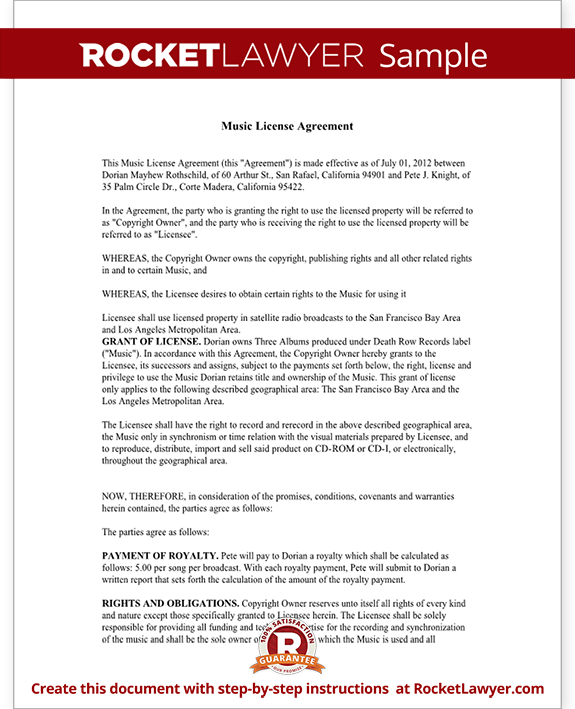 View Sample
Sample Music License Agreement
More than just a template, our step-by-step interview process makes it easy to create a Music License Agreement.

Save, sign, print, and download your document when you are done.

Sample Music License Agreement
Our step-by-step interview process makes creating a printable Music License Agreement easy.
Make Document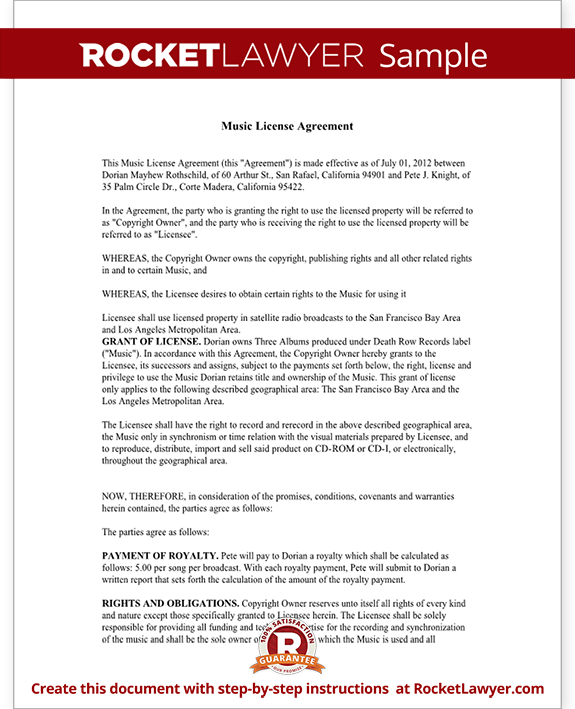 Why choose Rocket Lawyer?
Legally reviewed
Researched by lawyers
and legal staff.
Specialists to help
We're here to answer your
questions.
Free Trial
Your document is free with your subscription.
Our quality guarantee
We guarantee our service is
safe and secure.