A Living Will Revocation is a formal way to cancel your will if you've been having second thoughts or want to make substantial revisions. When you've decided you want to revoke your living will, for any reason, it's important that your paperwork stays up to date - a Living Will Revocation can help you keep your last will and testament as current as your wishes.
Use the Living Will Revocation document if:
You want to revoke an existing Living Will.
You've changed your mind about life sustaining procedures.
You want to make substantial revisions to your current living will and believe starting over will be easier.
A Living Will Revocation can undo a current living will. Maybe you're not quite as sure about certain things as you were a few years ago or maybe you plan on making so many changes to the existing will you'd rather start from scratch. It's understandable as there's a lot that goes into making a will: choosing which assets to distribute, deciding upon end of life care, naming beneficiaries. You may also be considering getting married and weighing the benefits of having a joint living will. No matter the reasons, a Living Will Revocation can help you if you're considering redoing your will. Plans can change, and it's important that your paperwork changes along with them. When you sign a Living Will Revocation, you're cancelling your current living will so that you can start with a clean slate.

Other names for this document: Advance Directive Revocation, Advance Health Care Directive Revocation, Advance Medical Directive Revocation
---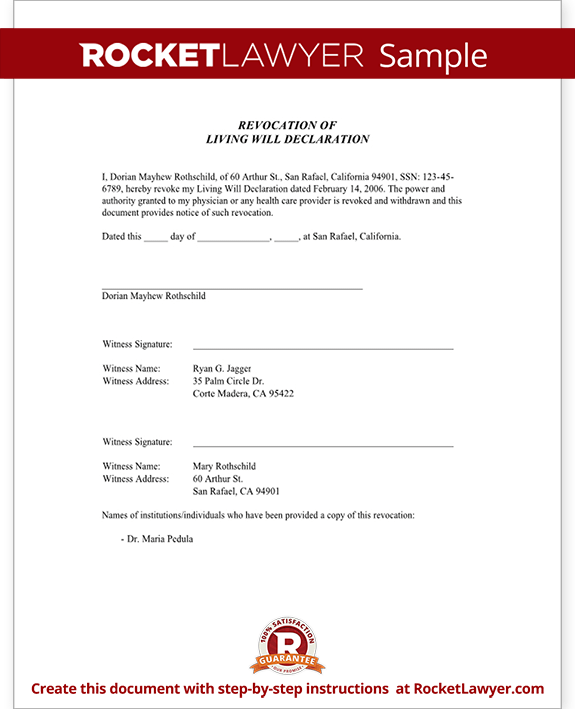 View Sample
Sample Living Will Revocation
More than just a template, our step-by-step interview process makes it easy to create a Living Will Revocation.

Save, sign, print, and download your document when you are done.
This document is sometimes called a Revocation of Living Will Declaration.