MAKE YOUR FREE
ID Theft Affidavit
Answer simple questions to create your document

Sign & share your document online

Save progress and finish on any device; download & print at home
Start Now

Preparing your document questions
We've sent you an email
with information about how to access your document from any device

Make your Free
ID Theft Affidavit
ID Theft Affidavit Basics
An ID Theft Affidavit is a formal statement to help you prove your identity was stolen. It can also aid in stopping unauthorized accounts from being opened, challenging charges on your account, and helping creditors find and stop the thief. An ID Theft Affidavit helps get the ball rolling.
Use the ID Theft Affidavit document if:
Your identity has been stolen.
You want to assist creditors in investigating fraudulent use of your identity.
You want to make sure no unauthorized accounts are open.
You need to ensure that you aren't responsible for charges.
If you ever need an ID Theft Affidavit you can take solace in that it's an easy process. This is a sworn statement, signed in front of a Notary Public, that your identity has been stolen. As such, an affidavit has a lot of force behind it - so be sure everything is accurate. This document can help ensure that your accounts aren't wrongfully charged and that none are opened in your name. Even if there are already issues with your accounts documenting the whole process in writing can help protect you and preserve your rights when you go to challenge fraudulent charges. No matter the issues, an ID Theft Affidavit can help get you protected as quickly as possible.

Other names for this document: Identity Theft Affidavit, Affidavit of Stolen Identity, Identity Fraud Affidavit
---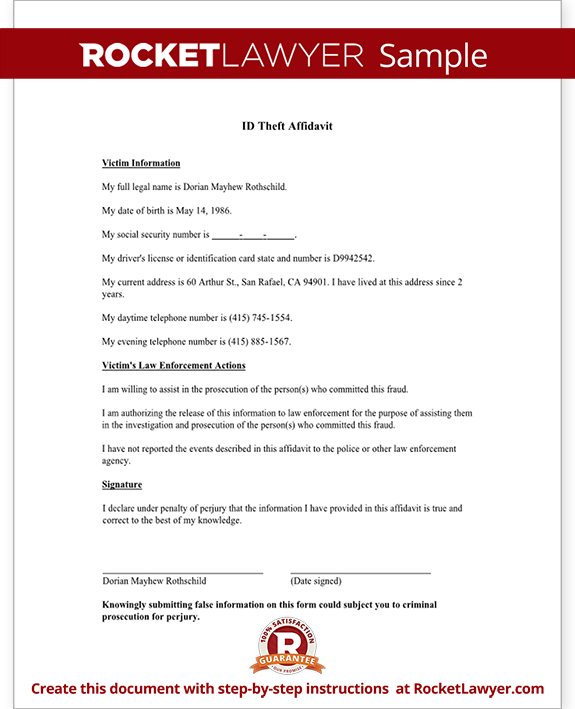 View Sample
Sample ID Theft Affidavit
More than just a template, our step-by-step interview process makes it easy to create an ID Theft Affidavit.

Save, sign, print, and download your document when you are done.

Sample ID Theft Affidavit
Our step-by-step interview process makes creating a printable ID Theft Affidavit easy.
Make Document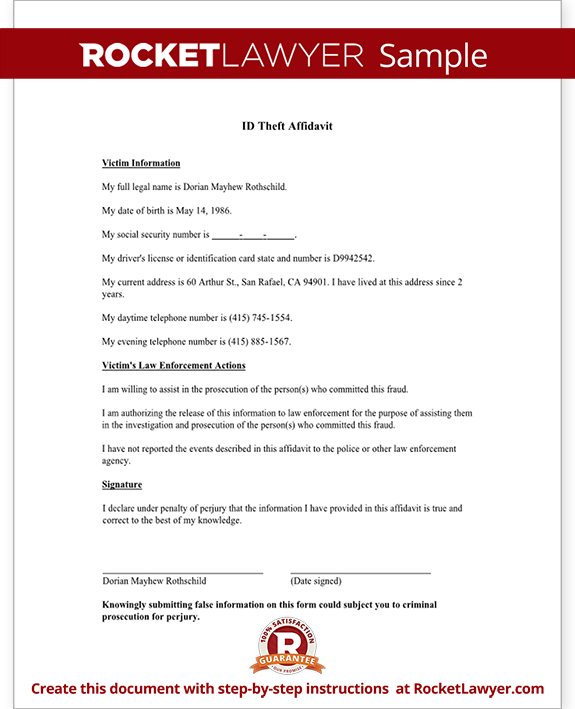 ---
Ready to create your Free ID Theft Affidavit?
Your document is free within your one week membership trial.
Make Document