Guaranty Agreement Basics
If you need to guarantee someone's credit worthiness, you can use a Guaranty Agreement. Whether you want a bank to loan money to a family member, or hold off on collections for his or her late phone bill, being a guarantor comes with the responsibility that you will repay their debt if they do not. Using a Guaranty Agreement can help protect you by specifying the terms of this arrangement.
Use the Guaranty Agreement document if:
You want to help someone secure a loan.
Someone is facing collections, and you're up for helping them negotiate revised or new terms.
A Guaranty Agreement is a contract that outlines your role in the process. It supports the obligation of a borrower to a lender; in the primary contract the borrower agrees to provide the lender with something of value -- ie. money, or goods and services. With a Guaranty Agreement you, the "guarantor," agrees to fulfill the promise of the borrower if he or she does not come through with their obligation. A Guaranty Agreement can be used to guarantee the repayment of a loan, the repayment of additional credit on an already past-due loan, the payments due under a lease, or the payment of future balances from credit card purchases. With a Guaranty Agreement, the guaranty can be "absolute" ( you will assume the obligation if the borrower cannot, for any reason) or "conditional" (your liability as the "guarantor" is conditional on a particular event in addition to the borrower's default), and can be restricted to a specific transaction or amount, or may cover any obligations over an indefinite period of time.

Other names for this document: Guaranty Agreement Form, Personal Guarantee Agreement
---
<![CDATA[ ]]>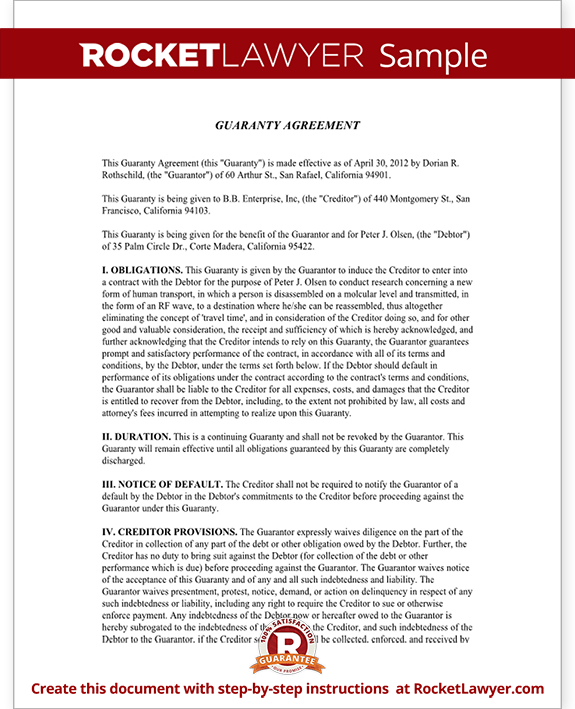 View Sample
Sample Guaranty Agreement
More than just a template, our step-by-step interview process makes it easy to create a Guaranty Agreement.

Save, sign, print, and download your document when you are done.

Sample Guaranty Agreement
Our step-by-step interview process makes creating a printable Guaranty Agreement easy.
Make Document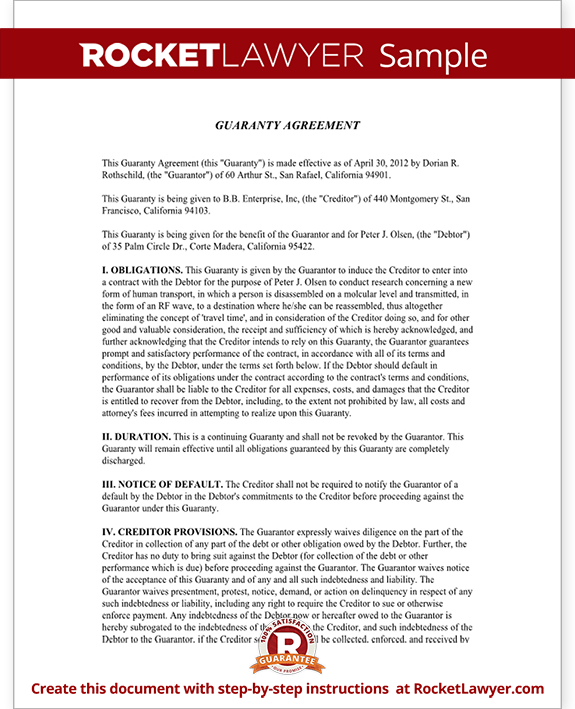 Why choose Rocket Lawyer?
Legally reviewed
Researched by lawyers
and legal staff.
Specialists to help
We're here to answer your
questions.
Free Trial
Your document is free with your subscription.
Our quality guarantee
We guarantee our service is
safe and secure.