MAKE YOUR FREE
Eviction Process Worksheet
Answer simple questions to create your document

Sign & share your document online

Save progress and finish on any device; download & print at home
Start Now

Preparing your document questions
We've sent you an email
with information about how to access your document from any device

Make your Free
Eviction Process Worksheet
Eviction Process Worksheet Basics
If you're a landlord, evicting a tenant is sometimes necessary. You can use an Eviction Process Worksheet to help make the process easier. With this document you can gather the necessary information so that you can evict a tenant while helping ensure that that both your rights, and his or her rights, are protected.
Use the Eviction Process Worksheet document if:
You need to evict a tenant.
A tenant hasn't been following the rental agreement, and you think an eviction might be coming up.
You're a property manager.
You regularly lease properties and want to be prepared for possible evictions.
An Eviction Process Worksheet helps you get the eviction process started the right way.It provides a checklist of things to do, and items to review, when you are preparing to evict a tenant, and can cover a range of different scenarios. You can compile information which can include the following: a review of the lease provisions; violations of the rental agreement; the amount of unpaid rent; the number of days that the tenant has stayed in the rental property beyond the end of the lease; receipts regarding clean-up costs of the rental property; the amount of damage to the rental property; a list of photographs of the damages; estimates concerning the repair of the damages; a list of witnesses who have knowledge of an incident that is cause for eviction; and a list of written statements or recorded statements from potential witnesses.

Other names for this document: Eviction Procedure Worksheet, Removal Process Worksheet
---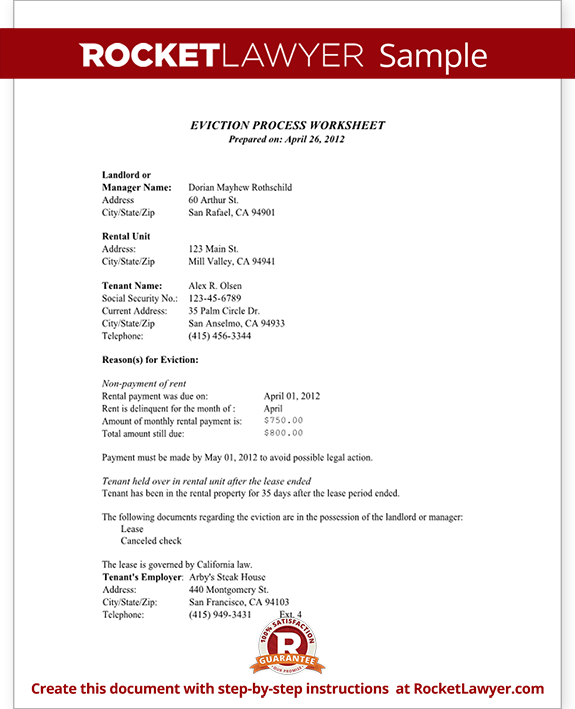 View Sample
Sample Eviction Process Worksheet
More than just a template, our step-by-step interview process makes it easy to create an Eviction Process Worksheet.

Save, sign, print, and download your document when you are done.

Sample Eviction Process Worksheet
Our step-by-step interview process makes creating a printable Eviction Process Worksheet easy.
Make Document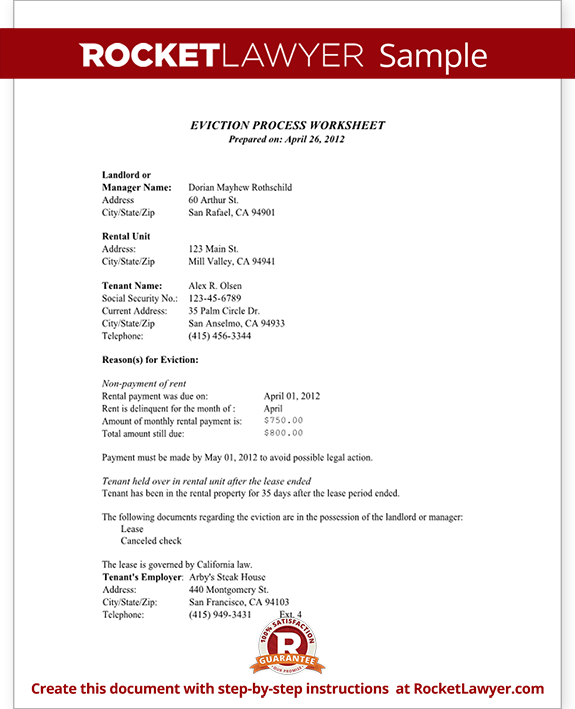 ---
Ready to create your Free Eviction Process Worksheet?
Your document is free within your one week membership trial.
Make Document