So you want to use copyrighted work in your next project. Use a Copyright Request to get the owner's permission, and help protect your legal rights and obligations. Get it done before you publish, and keep track of your correspondence with the owner. That way if any copyright questions or legal issues crop up, you can refer to your records for clarification.
Use the Copyright Request document if:
You would like to use copyrighted material or parts of it in a paper, blog, or some other medium and need to ask for permission from the owner.
You can create a Copyright Request to seek permission to use someone else's copyrighted material in your work. Whether you're working online or in some other form of media, you need to get the copyright owner's approval before you can use their material in publication. Their approval doesn't give you ownership of the copyright, but it does grant you permission to use that specific work in a limited way. Your Copyright Request should be as detailed as possible, including information like: who's requesting permission to use the copyrighted material; who owns the copyright; the name and description of the work you're requesting permission to use; where and how you intend to use the material (for example, are you looking to use a photo on your blog?); the date of the request; and any additional information you'd like to include.

Other names for this document: Copyright Permission Request, Copyright Request Form
---
<![CDATA[ ]]>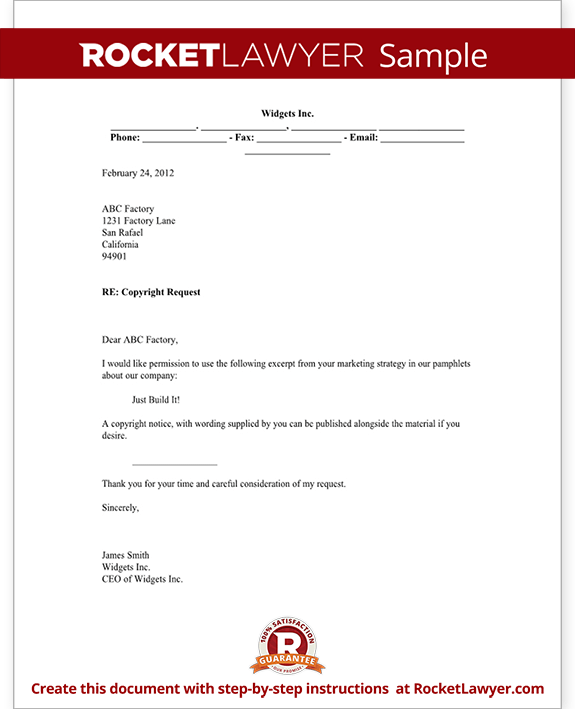 View Sample
Sample Copyright Request
More than just a template, our step-by-step interview process makes it easy to create a Copyright Request.

Save, sign, print, and download your document when you are done.

Sample Copyright Request
Our step-by-step interview process makes creating a printable Copyright Request easy.
Make Document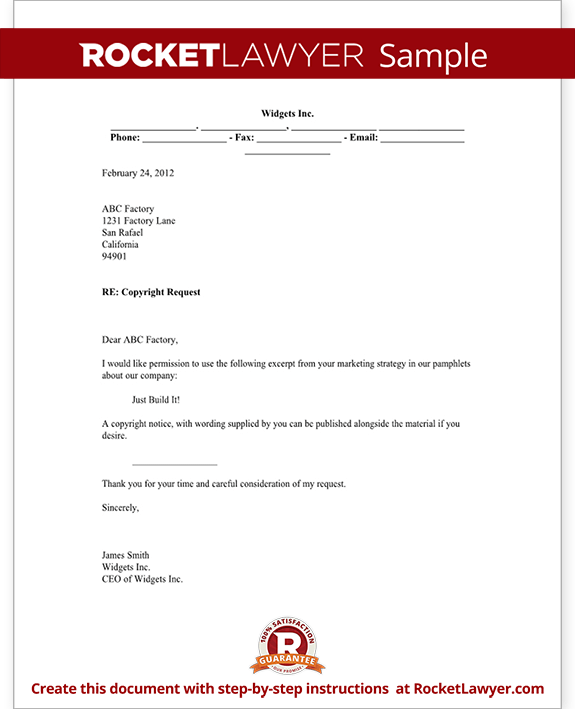 Why choose Rocket Lawyer?
Legally reviewed
Researched by lawyers
and legal staff.
Specialists to help
We're here to answer your
questions.
Free Trial
Your document is free with your subscription.
Our quality guarantee
We guarantee our service is
safe and secure.