When it's time to update your Will, you don't have to start from scratch. You can create a Codicil to a Will to revise your Will when you get married, divorced or have a child, among other reasons. Use our Codicil to Will to ensure the changes to your Will are legal and enforceable.
Use the Codicil to Will document if:
You want to change one or more provisions of your existing Will due to events such as a marriage or divorce, the birth of a child, a move to another state, a significant change in financial status, a change in tax laws, or the death of a beneficiary.
You want to add or change beneficiaries.
You want to add or change the nomination of any executor, trustee or guardian.
You did not include Digital Assets in your existing Will but would like to address them now. Digital Assets can include any online accounts or files stored on a computer or server, such as email accounts, blogs, social-networking websites, and photo and document sharing websites. You can use the Codicil to Will to appoint a Digital Executor to handle your Digital Assets. Learn more about Digital Executors.
You want to modify conditions or restrictions on the receipt of a bequest, such as the age at which a child can receive a bequest.
Creating a Codicil to Will is an easy way to make minor updates to your Will without starting over. The Codicil is a separate legal document from your Will, although it is best stored along with it. Adding a child as beneficiary, removing an ex-husband, changing an executor or including a new asset can all be accomplished by using a Codicil. However, when to create a Codicil versus when to draft a new Will differs case-by-case. Contact an attorney if you are unsure of when to use a Codicil, or whether to create a new Complete Will.

Other names for this document: Amendment to Will
---
<![CDATA[ ]]>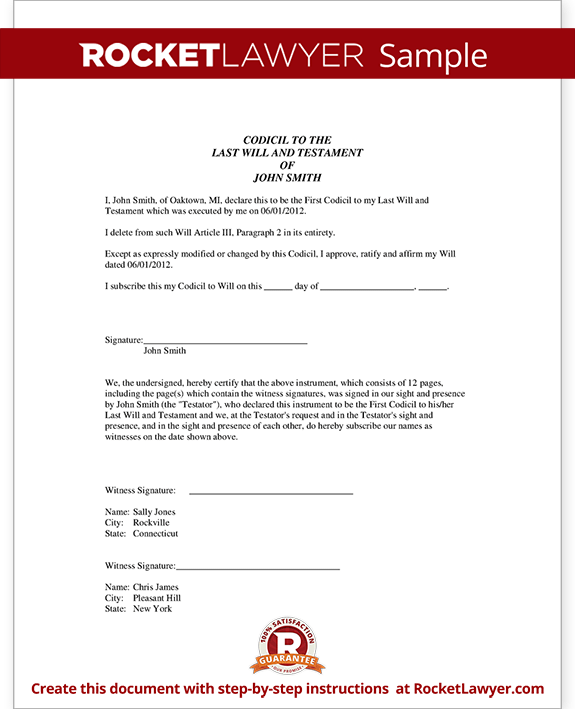 View Sample
Sample Codicil to Will
More than just a template, our step-by-step interview process makes it easy to create a Codicil to Will.

Save, sign, print, and download your document when you are done.

Sample Codicil to Will
Our step-by-step interview process makes creating a printable Codicil to Will easy.
Make Document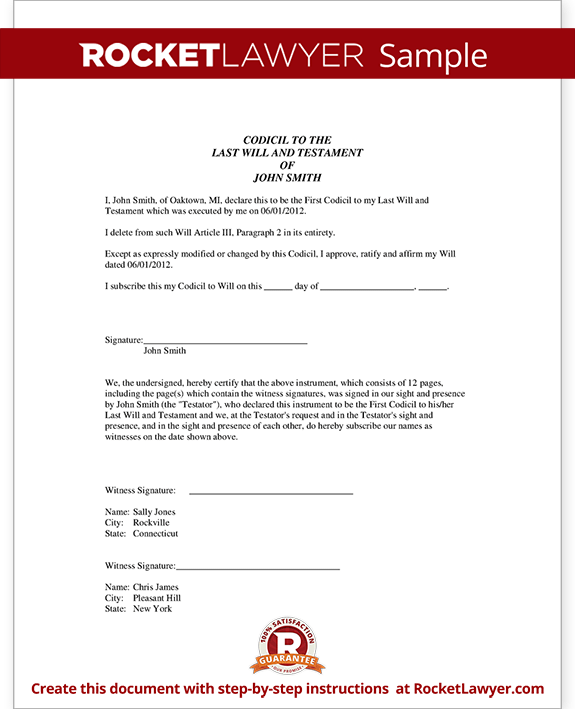 Why choose Rocket Lawyer?
Legally reviewed
Researched by lawyers
and legal staff.
Specialists to help
We're here to answer your
questions.
Free Trial
Your document is free with your subscription.
Our quality guarantee
We guarantee our service is
safe and secure.