Certificate of Incumbency Basics
If you run a company, you often need to make sure that certain employees, as officers of the company, have the ability to conduct business for the company. A Certificate of Incumbency is a document that specifies individuals who are officers in a corporation. Known also as an "Incumbency Certificate," a "Register of Directors," or a "Secretary Certificate," a Certificate of Incumbency is an official corporate document usually issued by a corporation's president or secretary. It lists the names and titles of all current officers within the company (for example, president, secretary, treasurer, etc), and includes a place for each officer to sign.
Use the Certificate of Incumbency document if:
You're incorporating a business and need to identify its officers.
You're a new officer at a corporation and want to have this officially documented.
You're an administrative manager of a corporation in charge of documentation.
---
<![CDATA[ ]]>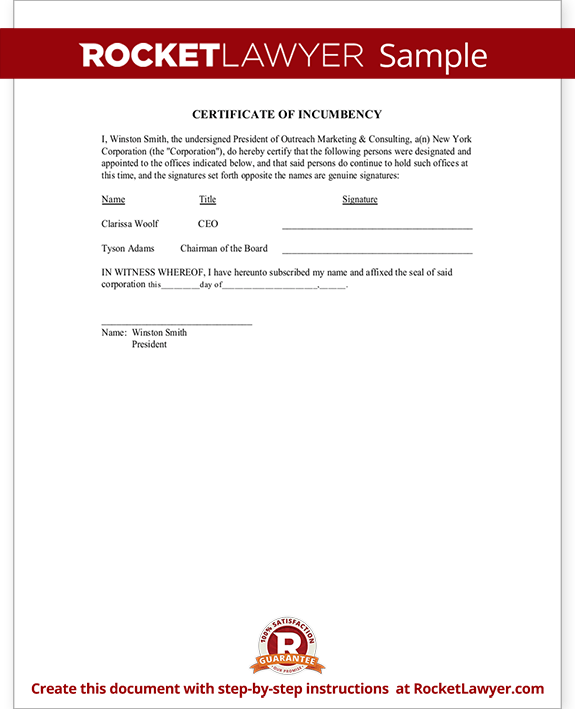 View Sample
Sample Certificate of Incumbency
More than just a template, our step-by-step interview process makes it easy to create a Certificate of Incumbency.

Save, sign, print, and download your document when you are done.

Sample Certificate of Incumbency
Our step-by-step interview process makes creating a printable Certificate of Incumbency easy.
Make Document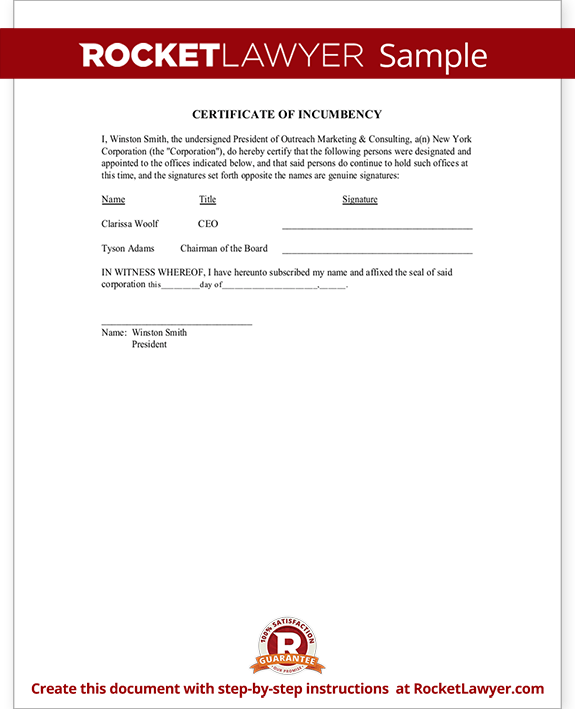 ---
A Certificate of Incumbency can be used in instances where the authority of a certain officer must be confirmed in writing. For instance, this document might be necessary in the process of opening a foreign bank account, and is often requested by agencies, tax professionals, and attorneys.

Other names for this document: Incumbency Certificate