MAKE YOUR FREE

Interior Design Contract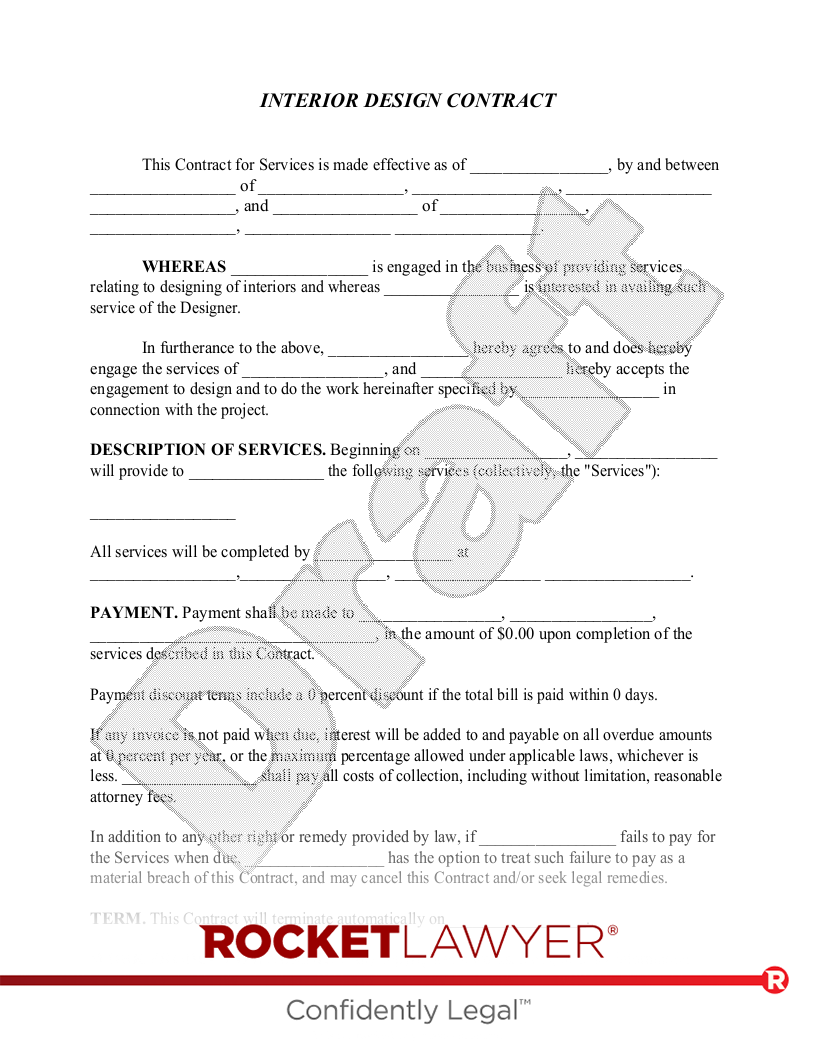 What is an Interior Design Contract?
An Interior Design Contract allows an interior designer to define the terms and conditions of an arrangement to deliver interior design services for a home or office. With signatures from both the property owner and the interior designer, this document helps define each party's expectations and limit conflicts. Different from a generic PDF template that you might download elsewhere, your Interior Design Agreement comes with the option of Document Defense®, so an attorney can respond on your behalf if you need to demand payment or have any other issues.
When to use an Interior Design Contract:
You're an interior designer providing service to a business or individual.
You're an individual or business hiring an interior designer and want to clarify the terms of the arrangement.
Sample Interior Design Contract
The terms in your document will update based on the information you provide
This document has been customized over 61.9K times
Legally binding and enforceable
Ask a lawyer questions about your document
Sign this document online for free with RocketSign®
INTERIOR DESIGN CONTRACT
This Contract for Services is made effective as of , by and between ("") of , , , and ("") of , , .
WHEREAS is engaged in the business of providing services relating to designing of interiors and whereas is interested in availing such service of the Designer.
In furtherance to the above, hereby agrees to and does hereby engage the services of , and hereby accepts the engagement to design and to do the work hereinafter specified by in connection with the project.
DESCRIPTION OF SERVICES. Beginning on , will provide to the interior design services included in Exhibit A (collectively, the "Services"). the following services (collectively, the "Services"):
All services will be completed by at ,, .
PAYMENT. Payment shall be made to , , , , , ., in the amount of upon completion of the services described in this Contract. upon executing this Contract. . agrees to pay in installment payments of . the sum of as follows:
In addition to any other right or remedy provided by law, if fails to pay for the Services when due, has the option to treat such failure to pay as a material breach of this Contract, and may cancel this Contract and/or seek legal remedies.
TERM. This Contract will terminate automatically upon completion by of the Services required by this Contract. will terminate automatically on . may be terminated by either party upon days' prior written notice to the other party. will remain in effect for a period of .
WORK PRODUCT OWNERSHIP. Any copyrightable works, ideas, or other information (collectively the "Work Product") developed in whole or in part by in connection with the Services will be the exclusive property of . . Upon request, will execute all documents necessary to confirm or perfect the exclusive ownership of to the Work Product.
INDEMNIFICATION. agrees to indemnify and hold harmless from all claims, losses, expenses, fees including attorney fees, costs, and judgments that may be asserted against that result from the acts or omissions of and/or 's employees, agents, or representatives.
WARRANTY. shall provide its services and meet its obligations under this Contract in a timely and workmanlike manner, using knowledge and recommendations for performing the services which meet generally acceptable standards in 's community and region, and will provide a standard of care equal to, or superior to, care used by service providers similar to on similar projects.
DEFAULT. The occurrence of any of the following shall constitute a material default under this Contract:
a.
The failure to make a required payment when due.
b.
The insolvency or bankruptcy of either party.
c.
The subjection of any of either party's property to any levy, seizure, general assignment for the benefit of creditors, application or sale for or by any creditor or government agency.
d.
The failure to make available or deliver the Services in the time and manner provided for in this Contract.
REMEDIES. In addition to any and all other rights a party may have available according to law, if a party defaults by failing to substantially perform any provision, term or condition of this Contract (including without limitation the failure to make a monetary payment when due), the other party may terminate the Contract by providing written notice to the defaulting party. This notice shall describe with sufficient detail the nature of the default. The party receiving such notice shall have days from the effective date of such notice to cure the default(s). Unless waived by a party providing notice, the failure to cure the default(s) within such time period shall result in the automatic termination of this Contract.
FORCE MAJEURE. If performance of this Contract or any obligation under this Contract is prevented, restricted, or interfered with by causes beyond either party's reasonable control ("Force Majeure"), and if the party unable to carry out its obligations gives the other party prompt written notice of such event, then the obligations of the party invoking this provision shall be suspended to the extent necessary by such event. The term Force Majeure shall include, without limitation, acts of God, fire, explosion, vandalism, storm or other similar occurrence, orders or acts of military or civil authority, or by national emergencies, insurrections, riots, or wars, or strikes, lock-outs, work stoppages, or other labor disputes, or supplier failures. The excused party shall use reasonable efforts under the circumstances to avoid or remove such causes of non-performance and shall proceed to perform with reasonable dispatch whenever such causes are removed or ceased. An act or omission shall be deemed within the reasonable control of a party if committed, omitted, or caused by such party, or its employees, officers, agents, or affiliates.
ARBITRATION. Any controversies or disputes arising out of or relating to this Contract shall be resolved by binding arbitration in accordance with the then-current Commercial Arbitration Rules of the American Arbitration Association. The parties shall select a mutually acceptable arbitrator knowledgeable about issues relating to the subject matter of this Contract. In the event the parties are unable to agree to such a selection, each party will select an arbitrator and the two arbitrators in turn shall select a third arbitrator, all three of whom shall preside jointly over the matter. The arbitration shall take place at a location that is reasonably centrally located between the parties, or otherwise mutually agreed upon by the parties. All documents, materials, and information in the possession of each party that are in any way relevant to the dispute shall be made available to the other party for review and copying no later than 30 days after the notice of arbitration is served. The arbitrator(s) shall not have the authority to modify any provision of this Contract or to award punitive damages. The arbitrator(s) shall have the power to issue mandatory orders and restraint orders in connection with the arbitration. The decision rendered by the arbitrator(s) shall be final and binding on the parties, and judgment may be entered in conformity with the decision in any court having jurisdiction. The agreement to arbitration shall be specifically enforceable under the prevailing arbitration law. During the continuance of any arbitration proceeding, the parties shall continue to perform their respective obligations under this Contract.
ENTIRE AGREEMENT. This Contract contains the entire agreement of the parties, and there are no other promises or conditions in any other agreement whether oral or written concerning the subject matter of this Contract. This Contract supersedes any prior written or oral agreements between the parties.
SEVERABILITY. If any provision of this Contract will be held to be invalid or unenforceable for any reason, the remaining provisions will continue to be valid and enforceable. If a court finds that any provision of this Contract is invalid or unenforceable, but that by limiting such provision it would become valid and enforceable, then such provision will be deemed to be written, construed, and enforced as so limited.
AMENDMENT. This Contract may be modified or amended in writing, if the writing is signed by the party obligated under the amendment.
GOVERNING LAW. This Contract shall be construed in accordance with the laws of the State of Commonwealth of .
NOTICE. Any notice or communication required or permitted under this Contract shall be sufficiently given if delivered in person or by certified mail, return receipt requested, to the address set forth in the opening paragraph or to such other address as one party may have furnished to the other in writing.
WAIVER OF CONTRACTUAL RIGHT. The failure of either party to enforce any provision of this Contract shall not be construed as a waiver or limitation of that party's right to subsequently enforce and compel strict compliance with every provision of this Contract.
ASSIGNMENT. Neither party may assign or transfer this Contract without the prior written consent of the non-assigning party, which approval shall not be unreasonably withheld.
SIGNATORIES. This Agreement shall be signed on behalf of by , and on behalf of by , and effective as of the date first above written.
Service Recipient:
Service Provider:
Final Checklist for Interior Design Contract
Service Recipient:
Service Provider:
Make It Legal
_____
Look over the Contract to ensure it matches your intentions. If you need to make changes to the Contract outside of the interview, you will be able to make changes online in the Document Manager at the end of the process or downloaded to any word processor.
_____
Use the easy e-signature service to sign electronically without having to print, sign and deliver hard copies. Or, print and sign hard copies of your Contract in duplicate.
_____
Share or deliver a copy of the Contract to the other Party.
Copies
_____
Keep a copy of all documents for your own records and in case there is a problem.
_____
Each Party should receive an original signed copy of the Contract. Your copy should be kept in a safe place. If you signed a paper copy of your document, you can use Rocket Lawyer to store and share it. Safe and secure in your Rocket Lawyer File Manager, you can access it any time from any computer, as well as share it for future reference.
When to Consult a Lawyer
*
If you are unsure or have questions regarding this document or need additional assistance with the process, use Rocket Lawyer's On Call™ service to connect with an attorney in your area to assist you in this matter. Click on the Find a Lawyer tab on our site or call 888-627-1192.
Other Information
*
It is not necessary that the signatures be witnessed or notarized.
Reasons to Update
*
The same parties are involved in another transaction involving different products.
*
To correct or amend terms of an existing contract.
Interior Design Contract FAQs
What are some benefits of creating an Interior Design Contract?

No matter the type of work you plan to do, an Interior Design Contract is a good idea for any interior designer. You may decide that you want this document due to the fact that, when made accurately, it can grant the helpful benefits outlined below:

The interior designer and property owner both understand the scope of their responsibilities
Start and end dates are established
Both parties know when payments are due

Some unfavorable outcomes from not signing one could include underpayment, impractical expectations, confusion on timing, and more potential concerns.

How should an agreement for interior design services be structured?

The specific details to cover are:

Contact information for your client
What type of services will be delivered
What fees will be charged and when
Whether the project will be ongoing or if it will last for a predetermined period of time

Your agreement will also contain standard language in relation to the non-employer relationship between the interior designer and property owner, confidentiality, and dispute resolution methods. During the process of building your agreement, you also will have the ability to select its state of jurisdiction. With the document tool, you have the ability to implement further personalization, if needed.

How much would I usually have to pay to get an interior design contract template drafted by a lawyer?

The cost of hiring and working with a conventional lawyer could total anywhere between hundreds of dollars to thousands, depending on the complexity of your situation. In order to draft an Interior Design Contract online for free with Rocket Lawyer, simply click the button that says "Make document" to start the process. You may also try having your document looked at by an Rocket Lawyer network attorney.

If you've got any particular doubts or questions about how to move forward, ask an attorney , or check out the other business documents in our library.

Is anything else required once I have drafted my Interior Design Contract?

Upon completing your customized document using Rocket Lawyer, you'll be able to review it at any time and place. You should feel free to take any or all of these actions with your document: editing it, printing it out, saving it as a Word or PDF file, and signing it with RocketSign®. Each Interior Design Contract will come with a set of directions that you will need to follow to finalize your document. You should make sure that everyone gets their copy of your final agreement.

Can my Interior Design Agreement be checked by an attorney?

Seeking out an attorney to give feedback on your agreement may take a long time if you do it on your own. Another approach could be through the Rocket Lawyer On Call® network of attorneys. Premium members can request feedback from an experienced attorney or pose additional questions. As a small business owner or operator, you can be confident that Rocket Lawyer is here to support you.