MAKE YOUR FREE

Business Sale Agreement
Other Names:
Business Sale Contract
Sale of Business Contract
Contract for Sale of Business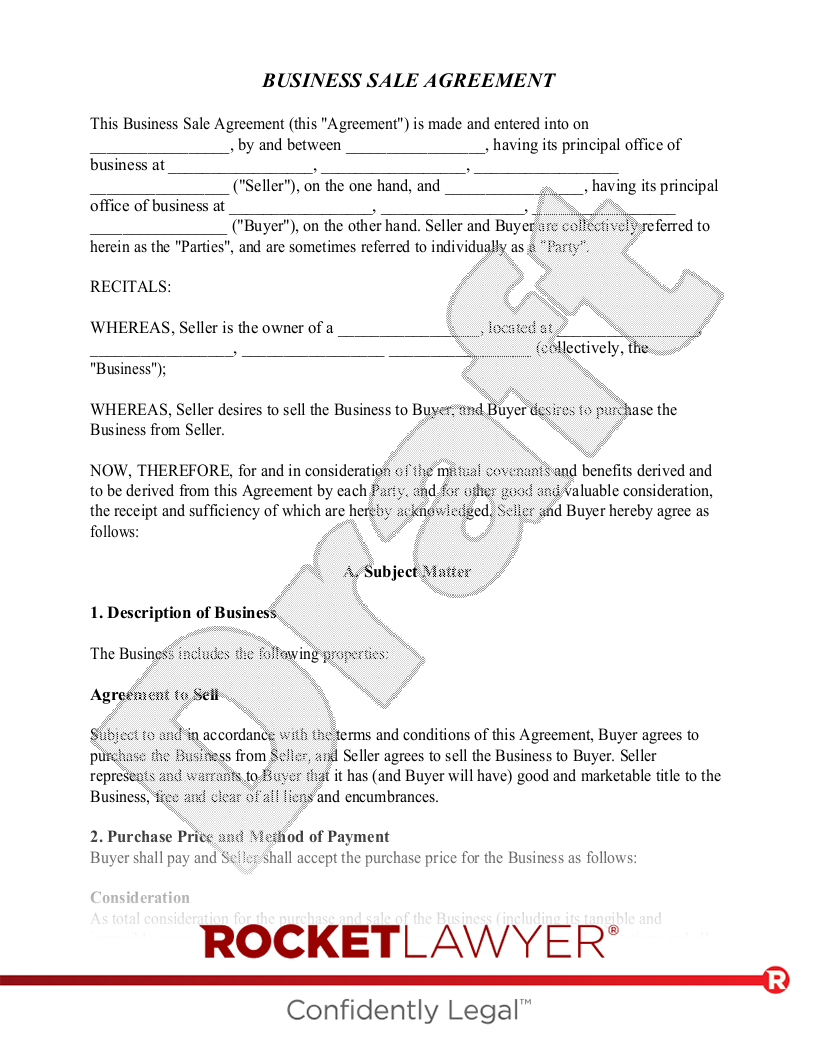 What is a Business Sale Agreement?
You're ready to buy the business of your dreams. Or it's time to sell your business. A Business Sale Agreement sets down the terms of the sale so you can make the purchase official. We'll make it simple for you to sign on the dotted line with our step-by-step instructions.

Buying or selling a business? A Business Sale Agreement helps you define and agree to the terms of the sale. This includes the purchase price and the closing details of the transaction. Having all the details squared away and in writing can help you get started in running a successful business.
When to use a Business Sale Agreement:
You have negotiated the sale of a business and you want to define the important terms and conditions of the sale in an Agreement.
Sample Business Sale Agreement
The terms in your document will update based on the information you provide
This document has been customized over 101.2K times
Legally binding and enforceable
Ask a lawyer questions about your document
Sign this document online for free with RocketSign®
This (this "Agreement") is made and entered into on , by and between , having its principal office of business at , , ("Seller"), on the one hand, and , having its principal office of business at , , ("Buyer"), on the other hand. Seller and Buyer are collectively referred to herein as the "Parties", and are sometimes referred to individually as a "Party".
RECITALS:
WHEREAS, Seller is the owner of a , located at , , (collectively, the "Business");
WHEREAS, Seller desires to sell the Business to Buyer, and Buyer desires to purchase the Business from Seller.
NOW, THEREFORE, for and in consideration of the mutual covenants and benefits derived and to be derived from this Agreement by each Party, and for other good and valuable consideration, the receipt and sufficiency of which are hereby acknowledged, Seller and Buyer hereby agree as follows:
A. Subject Matter
1. Description of Business
The Business includes the following properties:
Agreement to Sell
Subject to and in accordance with the terms and conditions of this Agreement, Buyer agrees to purchase the Business from Seller, and Seller agrees to sell the Business to Buyer. Seller represents and warrants to Buyer that it has (and Buyer will have) good and marketable title to the Business, free and clear of all liens and encumbrances.
2. Purchase Price and Method of Payment
Buyer shall pay and Seller shall accept the purchase price for the Business as follows:
Consideration
As total consideration for the purchase and sale of the Business (including its tangible and intangible assets as described above), and Buyer's assumption of the assumed obligations and all other liabilities provided for in this Agreement, the Buyer shall pay to the Seller the sum of , and such total consideration to be referred to in this Agreement as the "Purchase Price."
Payment
The sum of shall be delivered to Seller upon Buyer's execution of this Agreement. Subject to the following conditions, the Buyer shall make final payment of the remaining unpaid amount of the Purchase Price at closing. Buyer agrees to pay the entire amount at closing. Concurrent with the execution of this Agreement, Buyer has deposited with the Seller or Seller's Escrow Agent the sum of , (hereinafter referred to as "Earnest Money") as earnest money and a partial payment of the consideration under the Contract. In the event that the purchase and sale shall be consummated pursuant to the terms of said contract, Seller or Seller's Escrow Agent shall, at such closing, deliver to Seller the Earnest Money, and Buyer shall be given credit toward the purchase price for the payment of the Earnest Money. In the event that the closing does not occur, Buyer's deposited earnest money should be returned to Buyer. Unless the Buyer does not make a good faith effort to obtain financing, the Buyer shall be returned their earnest money if closing does not occur.
Allocation
The Purchase Price shall be allocated for tax purposes as follows:
Asset Purchased

Fair Market Value
Fair Market Value
Buyer and Seller each acknowledge that the amount of Purchase Price allocated to the Business properties represents the fair market value of the properties. Buyer and Seller each agree to report the sale of the business for income tax purposes according to the allocations set forth herein.
3. Closing
Time and Place of Closing
Closing is the date and time at which parties agree to finalize this transaction. The closing date is designated as , provided there are no unforeseen delays. Time is of the essence and in no event shall closing be later than calendar days after designated closing date, unless an extension is agreed upon in writing between the Buyer and the Seller.
At Closing, Seller shall deliver to the Buyer a final, executed Bill of Sale transferring to Buyer all of the assets of the Business sold hereunder, free and clear of any and all liens, encumbrances, security interests, debts or taxes of any nature whatsoever. The Seller shall also produce an Affidavit of Title indicating the Seller's authority to sell and transfer the Business and its assets. Finally, the Seller shall execute and deliver an assignment of the assumed name of the Business to the Buyer and any other documents necessary to finalize this Agreement.
B. Representations and Warranties of Seller
Seller makes the following representation and warranties as of the date hereof and as of the date of Closing, except when otherwise indicated.
Organization and Standing
The Business is duly organized, validly existing, in good standing under the laws of the State of Commonwealth of and is qualified to carry on its business in the State of Commonwealth of , and has the corporate power and authority to carry on its business as it is now being conducted.
Authority Relative to this Agreement
Except as otherwise stated herein, the Seller has full power and authority to execute this Agreement and carry out the transactions contemplated by it. No further action is necessary by the Seller to make this Agreement valid and binding upon Seller and enforceable against it in accordance with the terms hereof, or to carry out the actions contemplated hereby. The execution, delivery, and performance of this Agreement by the Seller will not constitute:
(i) a breach or a violation of the Corporation's Certificate of Incorporation, by-laws, or of any law, agreement, indenture, deed of trust, mortgage, loan agreement or other instrument to which it is a party, or by which it is bound;
(ii) a violation of any order, judgment or decree to which it is a party or by which its assets or properties is bound or affected; or
(iii) result in the creation of any lien, charge or encumbrance upon its assets or properties except as stated herein.
Authorization and Enforceability
This Agreement constitutes Seller's legal, valid and binding obligation, enforceable in accordance with its terms, subject, however, to the effects of bankruptcy, insolvency, reorganization, moratorium, fraudulent transfer and conveyance and other laws for the protection of creditors, as well as to general principles of equity, regardless whether such enforceability is considered in a proceeding in equity.
Tax Matters
The Seller has timely prepared and filed all federal, state, and local tax returns and reports as are and have been required to be filed, and all taxes shown thereon to be due have been paid in full, including but not limited to sales tax, withholding tax, and all other taxes of every nature.
Properties
The Seller has good and merchantable title to all of its properties and assets that constitute "Business" as defined herein. At Closing, such properties and assets will be subject to no mortgage, pledge, lien, conditional sales agreement, security agreement, encumbrance or charge, secured or unsecured, except for those taxes which shall be pro-rated as of the date of Closing. Seller has or will pay all debts incurred by it up to the date of occupancy by Buyer including all employee compensation and utilities.
Litigation
There is no action, suit, proceeding, claim or investigation by any person, entity, or governmental entity pending or, to Seller's knowledge, threatened against it before any governmental entity that impedes or is likely to impede its ability to consummate the transaction.
Compliance with Applicable Laws
None of the Seller's actions in transferring good and merchantable title to those assets and properties set out in herein are prohibited by or have violated or will violate any law in effect on the date of this Agreement or on the date of closing.
Documents for Review
The Seller's Documents for Review enumerated in Exhibit "A" attached hereto and made a part hereof are true, authentic, and correct copies of the originals, or as appropriate the originals themselves, and no alterations and modifications thereof have been made.
The lease currently operative on the premises, if applicable, is in good standing and all payments required to be made under the lease have been made by Seller. All rent averages, rent, maintenance and other expenses relating to the lease including any real property tax obligations and insurance obligations up to occupancy by Buyer are the responsibility of Seller.
No Other Representations or Warranties; Disclosed Materials
Seller makes no other express or implied representations of warranty with respect to Seller, and Seller disclaims any other representations or warranties not contained in this Agreement, whether made by Seller, any affiliate of Seller, or any of their respective officers, directors, managers, partners, employees or agents.
C. Representations and Warranties by both Buyer and Seller
Buyer makes the following representations and warranties as of Closing and as of the date hereof.
Warrants
Buyer and Seller hereby represent and warrant that there has been no act or omission by Buyer or Seller which would give rise to any valid claim against any of the parties hereto for a brokerage commission, finder's fee, or other like payment in connection with the transactions contemplated hereby.
Financial Resources
Buyer shall have as of Closing, sufficient funds with which to pay the Closing Amount and consummate the transaction and, following Closing, Buyer will have sufficient funds to pay any adjustments to the Purchase Price and meet its other payment obligations under this Agreement.
Payment of Costs and Expenses
Except as expressly provided to the contrary in this Agreement, each party shall pay all of its own costs and expenses incurred with respect to the negotiation, execution and delivery of this Agreement and the exhibits hereto.
Litigation
There is no action, suit, proceeding, claim or investigation by any person, entity, or governmental entity pending or, to Buyer's knowledge, threatened against it before any governmental entity that impedes or is likely to impede its ability to consummate the transaction and to assume the liabilities to be assumed by it under this Agreement.
Indemnification
Buyer shall indemnify and hold Seller harmless from any and all liabilities and obligations arising from Buyer's operation of the business after the Closing. Similarly, Seller shall indemnify and hold Buyer harmless from any and all liabilities and obligations arising from Seller's operation of the business prior to the Closing.
Default
After execution of this Agreement by the parties, if either party fails to perform its respective obligations, or breaches a warranty or covenant, that would constitute a default. The defaulting party shall cure the default within days of notice by the other party. In the event of a failure to cure such default by either party within the stipulated time, Seller or Buyer shall have the right to cancel this transaction and/or sue for damages in addition to any other relief provided under this Agreement. In a suit for default, the prevailing party shall recover reasonable attorney fees.
Survival of Representations and Warranties
Each of the parties to this Agreement covenants and agrees that their respective representations, warranties, covenants, statements, and agreements contained in this Agreement shall survive the Closing Date. Except the exhibits hereto or the documents and papers delivered by Seller to Buyer in connection with the Agreement herewith, there are no other agreements, representations, warranties, or covenants by or among the parties hereto with respect to the subject matter hereof.
Buyer's Evaluation
Buyer acknowledges that it is an experienced and knowledgeable investor in , and is aware of the risks.
Cooperation
Both Seller and Buyer agrees to cooperate fully with each other and to execute such further instruments, documents and agreements and to give such further written assurances, as may be reasonably requested by the parties, to better evidence and consummate the transactions described herein and contemplated hereby, and to carry into effect the intents and purposes of this Agreement.
Bankruptcy
There are no bankruptcy, reorganization or arrangement proceedings pending, being contemplated by or to such Buyer's knowledge threatened against such Buyer or any affiliate of such Buyer.
Confidentiality
Both Seller and Buyer shall not divulge, communicate, or use to the detriment of the other or for the benefit of any other person or persons, or misuse in any way, any of Seller's confidential information discovered by or disclosed to Seller or Buyer as a result of the delivery, execution or performance of this Agreement.
No Investment Company
Buyer is not (a) an investment company or a company controlled by an investment company within the meaning of the Investment Company Act of 1940, as amended, or (b) subject in any respect to the provisions of that Act.
D. Transactions Prior to Closing
Conduct of Seller's Business until Closing
Except as Buyer may otherwise consent in writing prior to the Closing Date, Seller will not enter into any transaction, take any action, or fail to take any action which would result in or could reasonably be expected to result in or cause any of the representations and warranties of Seller contained in this Agreement to be void, invalid, or false on the Closing Date.
Resignations
Seller shall deliver to Buyer prior to the Closing Date such resignations of officers or employees of the business as Buyer shall indicate, and each such resignation to be effective on the Closing Date.
Satisfactions
Seller shall deliver to Buyer on the Closing Date a satisfaction of any encumbrance or lien on the business property, satisfactory in form and substance to the Buyer, indicating that the then outstanding unpaid principal balance of any promissory note secured thereby has been paid in full prior to or simultaneously with the closing.
Advice of Changes
Between the date hereof and the Closing Date, Seller will promptly advise Buyer in writing of any fact which, if existing or known at the date hereof, would have been required to be set forth herein or disclosed pursuant to this Agreement.
Documents
Seller shall deliver to Buyer at closing such documents which are in Buyer's sole discretion and necessary to fully satisfy the objectives of this Agreement in content and form.
E. General Provisions
Waivers
No action taken pursuant to this Agreement including any investigation by or on behalf of any party shall be deemed to constitute a waiver by the party taking such action of compliance with any representation, warranty, covenant or agreement contained herein or therein and in any documents delivered in connection herewith or therewith. The waiver by any party hereto of a breach of any provision of this Agreement shall not operate or be construed as a waiver of any subsequent breach.
No Third-Party Beneficiaries
Except as otherwise provided, nothing in this Agreement shall provide any benefit to any third party or entitle any third party to any claim, cause of action, remedy, or right of any kind, it being the intent of the Parties that this Agreement shall not be construed as a third-party beneficiary contract.
Notices
All notices, requests, demands and other communications which are required or may be given under this Agreement shall be in writing and shall be deemed to have been duly given if delivered or mailed, first class mail, postage prepaid to Seller, Buyer, or to such other address as such party shall have specified by notice in writing to the other party.
Sections and Other Headings
The section and other headings contained in this Agreement are for reference purposes only and shall not affect the meaning or interpretations of this Agreement.
Governing Law; Venue
This agreement and all transactions contemplated hereby shall be governed by and construed and enforced in accordance with the laws of the .
Conditions Precedent
If the obligations and responsibility of either party are not fulfilled by the appropriate dates thereof, then this Agreement shall be deemed null and void and any deposits paid at said time shall be returned to the Buyer forthwith.
Time is of the Essence
Time and timely performance are of the essence in this contract and of the covenants and provisions hereunder.
Successors and Assigns
This Agreement may not be assigned without the prior written consent of the parties hereto. Rights and obligations created by this contract shall be binding upon and inure to the benefit of the parties hereto, their successors and assigns. Whenever used, the singular number shall include the plural, the plural the singular, and the use of any gender shall include all genders.
Contractual Procedures
Unless specifically disallowed by law, service of process in any litigation that arise hereunder may be obtained through certified mail, return receipt requested; the parties hereto waiving any and all rights they may have to object to the method by which service was perfected.
Extraordinary Remedies
To the extent cognizable at law, in the event of breach the parties hereto may obtain injunctive relief in addition to any and all other remedies available thereto regardless of whether the injured party can demonstrate that no adequate remedy exists at law.
Entire Agreement
This Contract contains the entire agreement of the parties, and there are no other promises or conditions in any other agreement whether oral or written concerning the subject matter of this Contract. This Contract supersedes any prior written or oral agreements between the parties.
Severability
If any provision of this Contract will be held to be invalid or unenforceable for any reason, the remaining provisions will continue to be valid and enforceable. If a court finds that any provision of this Contract is invalid or unenforceable, but that by limiting such provision it would become valid and enforceable, then such provision will be deemed to be written, construed, and enforced as so limited.
Amendments
This Contract may be modified or amended in writing, if the writing is signed by the party obligated under the amendment.
Initials and Exhibits
This Contract shall not be valid and enforceable unless it is properly executed by Buyer and Seller and their initials affixed to each page of the exhibits attached hereto and made a part hereof.
Signatories
This Agreement shall be executed on behalf of by , its , and on behalf of by , its ..
Exhibit "A"
Documents for Review
For all documents named above the Seller shall provide full and complete records covering the past years.
________________________
________________________
Final Checklist for
Rocket Lawyer is the easy and affordable legal service for everyone -- giving you the legal help you need at a price you'll love. Our legal plans give families and businesses free legal documents, affordable access to licensed attorneys, plus a whole lot more.
Next Steps: Make it Legal
_____
Look over the to ensure it matches your intentions. If you need to make changes to the Agreement outside of the interview, you will be able to make changes online or in Word format in the Document Manager at the end of the process.
_____
Make sure all attachments have been included and initialed. You should scan and upload a copy of any attachments to your Rocket Lawyer account using your Rocket Lawyer account to ensure you have a complete record of all documents involved in this transaction.
_____
Have the Party sign and date the Agreement in duplicate. You can also use Rocket Lawyer's e-signature service to electronically sign the document.
Copies
_____ Keep a copy of all documents for your own records and in case there is a problem.
_____ Keep an original signed copy of the . Your copy should be kept in a safe place. If you signed a paper copy of your document, you can use Rocket Lawyer to store and share it. Safe and secure in your Rocket Lawyer account, you can access it any time from any computer, as well as share it for future reference.
Members can always consult an attorney at no extra cost!
*
If you have quick questions or wish to review this document with an attorney, you can do so for free. Rocket Lawyer's On Call® service makes it fast and easy to speak with a local attorney. Get started by visiting the Find a Lawyer tab on our site, or calling (866) 243-2183.