Small Estate Affidavit
Settling an estate can be a lengthy process. A Small Estate Affidavit can help. This affidavit helps show the probate courts exactly how much the deceased's assets were really worth and, under many circumstances, can actually help avoid the time-consuming and sometimes costly probate process.
IMPORTANT: Residents of Georgia, Kentucky, and New Hampshire should not use this form.
Get started Create your Small Estate Affidavit now. It only takes about 10 minutes to complete.
Use a Small Estate Affidavit if:
Your spouse or close relative has died without a will and you would like to finalize his or her estate matters.
You were named the personal representative or executor of an estate that qualifies as a "small estate" under the law.
---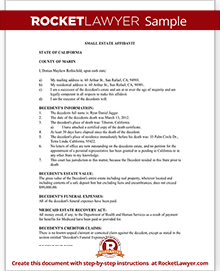 View Sample
Sample Small Estate Affidavit
More than just a template, our step-by-step interview process makes it easy to create a Small Estate Affidavit.
Save, sign, print, and download your document when you are done.
Sample Small Estate Affidavit
Our step-by-step interview process makes creating a printable Small Estate Affidavit easy.
Make Document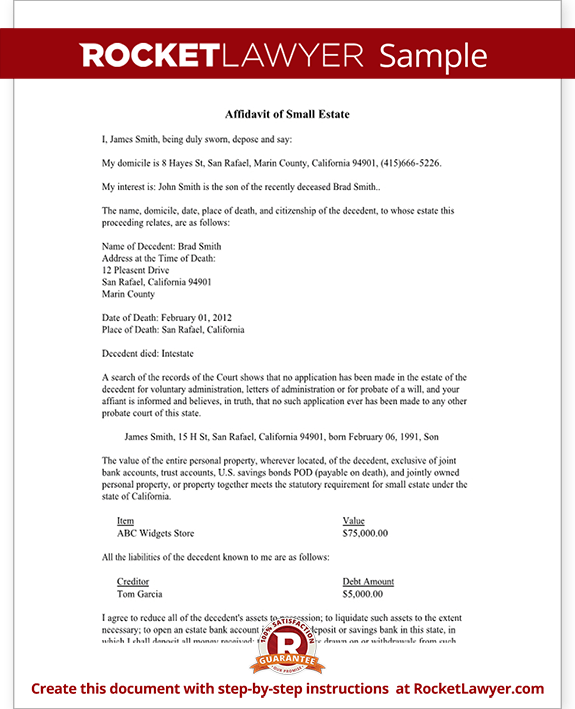 What's considered a "small estate"
Although the exact figure varies state to state, a small estate is generally under $150,000. Consult with a local estate planning attorney to determine if you're able to use this document.
When and why to use Small Estate Affidavit
It's no secret that the probate process can be time consuming and expensive. A Small Estate Affidavit can help you avoid that. Generally, the estate representative will provide this document to a probate judge, and carry out administration duties (such as distributing assets) to heirs afterward.
Who creates a Small Estate Affidavit
More often than not, a Small Estate Affidavit is prepared by the executor of the deceased's Last Will and Testament. Since this person generally has the keenest insight into the estate in question and can attest to its size and the value of its assets.
If the deceased didn't have a will, the deceased's spouse or heir generally handles the Small Estate Affidavit.
Information needed for creating a Small Estate Affidavit
You will need to have the following information available to you to draft your Small Estate Affidavit. Many of these important provisions concern the deceased's estate itself.
Specify whether Decedent's funeral expenses have been paid. Before the Estate can be settled and assets distributed to the Beneficiaries, the court requires that these be paid in full.
List all organizations or persons who are still owed money for Decedent's expenses and amount owed. This may include utility bills, medical bills, unpaid rent, etc.
Determine whether or not Decedent died with a Will. If so, you will also need to specify the following:

Date Decedent signed the Will;
If there were any Codicil(s) to the Will, the date of the Codicil(s). A Codicil is a typed or handwritten document in which the Decedent has made additional or new instructions for settling the Decedent's Estate.
How Affiant had possession of Decedent's Will and/or Codicil(s). For example, prior to Decedent's death, Decedent gave the original Will to Affiant.

List the names, addresses and relationship to Decedent (and age if younger than 18) of the surviving spouse or domestic partner and/or any children. Also, specify the amount or specific items each will receive from Decedent's Estate.
Describe and list the fair market value of each item of personal property and real estate that will be distributed from Decedent's Estate and recipient's name. Requirements for what must be listed vary from state-to-state. For example, some states only require personal property to be listed. Also, real estate held in Joint Tenancy, multi-party bank accounts, payable on death bank accounts, life insurance or assets held in a Revocable Trust may not need to be listed on the Affidavit.
Get started Create your Small Estate Affidavit now. It only takes about 10 minutes to complete.
Other estate administration documents:
Often times, its estate administrators who need a Small Estate Affidavit. Here are some other documents to help you through this time.
If you have any questions about what's right for you and your family, we can connect you with a lawyer for quick answers or a document review.
Who it's for

Estate administrator

Heirs and probate courts
How we make it simple
Answer easy questionsto build a custom contract.
Ask a lawyer to look it overif you have any questions.
Sign itand store your work securely.
What people are saying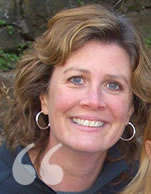 It was so quick and easy to use. I started my legal document, customized it and had it ready to review and sign in just a few minutes.
Susan S.
Rocket Lawyer Customer
Get connected with a local lawyer
Members save with free consults and pre-negotiated rates.
Find a lawyer