Car Bill of Sale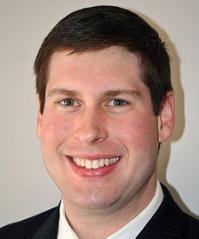 Reviewed by Rocket Lawyer On Call Attorney

Eric Atstupenas, Esq
Purchasing a new or used car involves a little more than an exchange of keys. You'll need a Car Bill of Sale too to make it official with the DMV. It's easy when you use our Car Bill of Sale to sell or purchase your next vehicle.
Get started Create your Car Bill of Sale now. It only takes about 10 minutes to complete.
Use a Car Bill of Sale if:
You own a vehicle which will be sold or transferred to another person.
You plan to buy a vehicle from an individual rather than an auto dealer.
---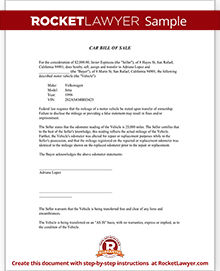 View Sample
Sample Car Bill of Sale
More than just a template, our step-by-step interview process makes it easy to create a Car Bill of Sale
Save, sign, print, and download your document when you are done.
Sample Car Bill of Sale
Our step-by-step interview process makes creating a printable Car Bill of Sale easy.
Make Document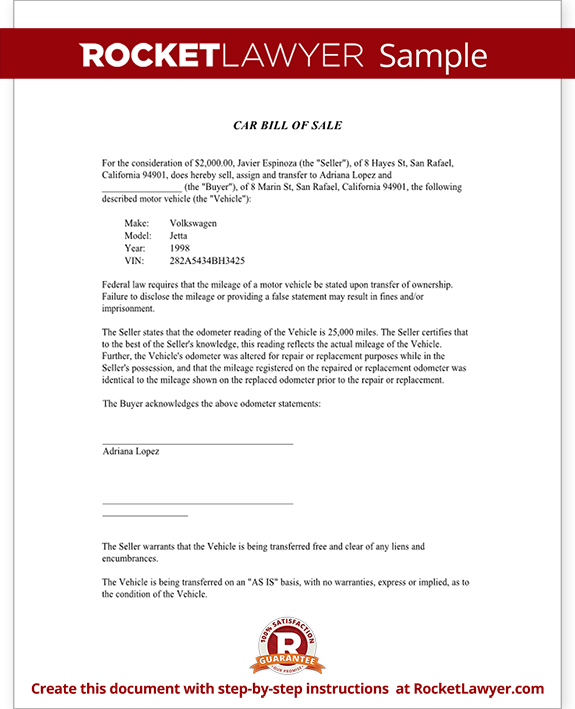 ---
Other names for a Car Bill of Sale:
Vehicle Bill of Sale, Automobile Bill of Sale
Car Bill of Sale basics:
A Car Bill of Sale is one of the most commonly used documents in America. After all, most of us own cars, but buying or selling a car isn't something you do with just a credit card on a Sunday afternoon. To sell or purchase a used car that you or another party owns, you'll want to make sure to use a Car Bill of Sale (as opposed to a generic Bill of Sale). That's because, in a Car Bill of Sale, there are specific clauses that need to be included so that the sale is legal. Here's what you'll need to include:
Vehicle Identical Number (VIN): From a humble sedan to the glossiest of sports cars, every automobile has a VIN. And every VIN is unique. Many times, this number can be found inside the driver's side door. It's a serial number that corresponds to a single car and a single car alone and it's purpose is to allow insurance companies and government agencies to track a car throughout its existence. That way, a seller can prove the history of a particular automobile and the buyer can make sure they aren't buying a lemon.
Make and Model: While a VIN is in fact the most specific identifying characteristic for an automobile, including the make and model in your Car Bill of Sale is just as important. Failing to do so can, in some instances, void the sale.
Odometer reading: The clause in our Car Bill of Sale interview contains two important parts. The first is the reading itself (such as 185,000 miles) and the second is the sworn statement of the seller that this information is accurate. After all, without having a mechanic do a full diagnostic, a car's odometer reading is a good shorthand for what sort of shape a vehicle is in. If you were purchasing a car with 50,000 miles on it, you'd expect the transmission to be in good shape. Once you're closer to 150,000? You know you might be in for a few trips to the garage.
Warranty information: Whether the car in question is on its first owner or its tenth, you'll want to make sure that any warranty information is included. If there's no warranty---and often times for used vehicles, this is the case---simply note that the warranty is expired.
Most of us won't ever purchase the controlling share of a business or sell off stock in the startup we founded, but we will buy or sell a used car. Using a Car Bill of Sale---in addition to the paperwork you'll need to get from your state or local DMV---keeps things legal. Both the buyer and the seller will want to sign the Bill before the keys are handed over though, remember, you will have to contact your local government to take care of the title transfer.
If you're looking into selling a boat, our Boat Bill of Sale is specially tailored for that purpose and contains similar clauses for warranties, etc. For most other items (not including real estate), a non-specific Bill of Sale will do the trick.
Other automotive documents:
There are a handful of documents you might need after you've sold your car:
If you have any questions about what's right for you, we can connect you with a lawyer for quick answers or a document review.
Who it's for

Seller

Buyer
How we make it simple
Answer easy questionsto build a custom contract.
Ask a lawyer to look it overif you have any questions.
Sign itand store your work securely.
What people are saying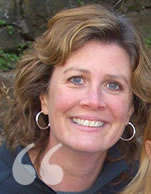 It was so quick and easy to use. I started my legal document, customized it and had it ready to review and sign in just a few minutes.
Susan S.
Rocket Lawyer Customer
Get connected with a local lawyer
Members save with free consults and pre-negotiated rates.
Find a lawyer