Free Repair Release
If you're in the business of making repairs, it's a good idea to add the Repair Release to your tool belt. You can't control what someone does after you've fixed a leaky sink or laptop. Make sure you're not held liable. A Repair Release will help make your business watertight.
Build your document
Save, Print & Share
Sign it & make it legal!
Get started
We make it simple to create a Repair Release
Use the Repair Release document if:
You provide repair services and you would like a customer to release you from any liability before you start repairs.
<![CDATA[ ]]>
View Sample
Sample Repair Release
More than just a template, our step-by-step interview process makes it easy to create a Repair Release.

Save, sign, print, and download your document when you are done.
Sample Repair Release
Our step-by-step interview process makes creating a printable Repair Release easy.
Make Document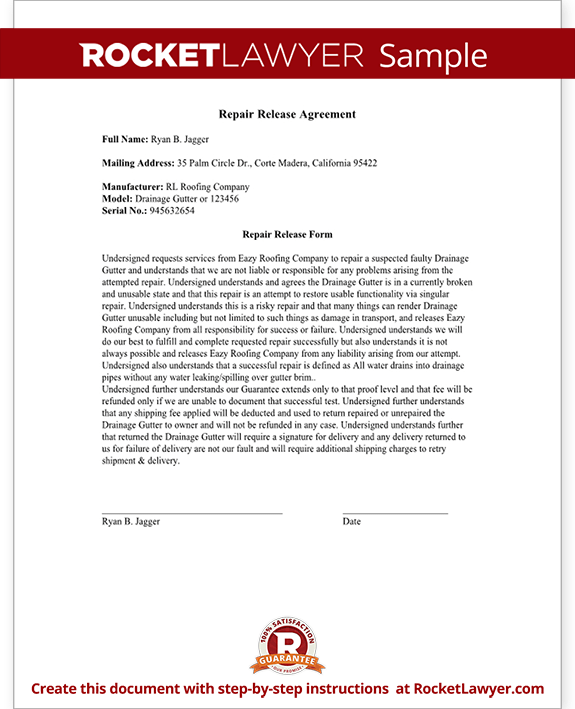 It doesn't matter whether you're a handyman or you know your way around a hard drive - no one's immune from Murphy's Law. But when your customer has signed a Repair Release, you'll know they can't blame you when they drop their smartphone in the toilet as soon as you hand it back to them. Even if you're a pro, however, sometimes things just go wrong. Protect yourself by asking customers to release you or your company from liability for any damages that may occur during your repair. Spell out the scope of your work, and how long you'll vouch for it. And if you're a customer? You probably understand that someone who repairs things for a living needs a little armor. When you choose a reputable, qualified professional, you're playing it safe. A Repair Release can help ensure that a repair pro can do their best to help you.

Other names for this document: Repair Release Form, Liability Release for Repairs
Get started We make it simple to create a Repair Release.
Using Rocket Lawyer to file my incorporation documents was so easy and so simple.
- Nicole W. | Food Body M.E.
Rocket Lawyer customer