Free Rent Receipt
A Rent Receipt is a simple way to document and confirm payments made on your home or apartment. As a landlord, you may be required, or asked, to provide a Rent Receipt to your tenants. Having transactions formalized in writing can help avoid any mistakes in the event a tenant pays in cash or bounces a check. A Rent Receipt is your tool to ensure you stay on the same page as your tenant or landlord.
Build your document
Save, Print & Share
Sign it & make it legal!
Use the Rent Receipt document if:
You're a landlord and you're required to provide a Rent Receipt.
You're a tenant and want proof of rent payment.
You supervise a property management company.
<![CDATA[ ]]>
View Sample
Sample Rent Receipt
More than just a template, our step-by-step interview process makes it easy to create a Rent Receipt.

Save, sign, print, and download your document when you are done.
Sample Rent Receipt
Our step-by-step interview process makes creating a printable Rent Receipt easy.
Make Document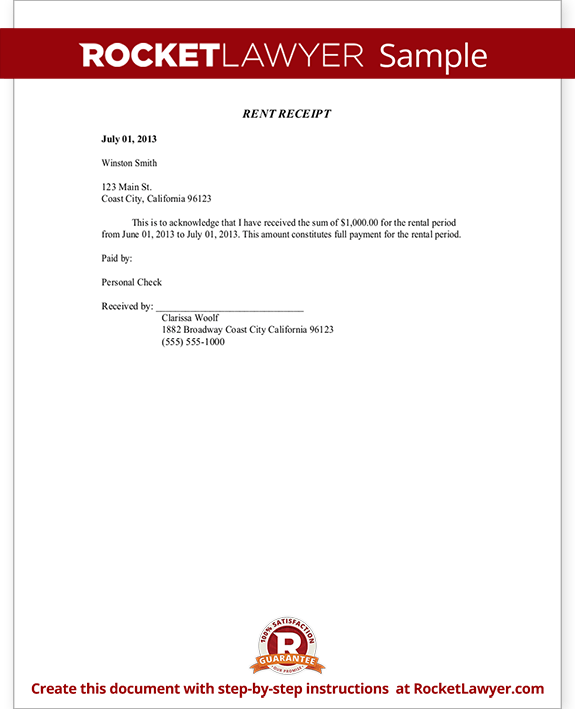 Chances are that your rent payment is your largest monthly expenditure. A Rent Receipt can help you keep track of your expenses and give you a physical document to keep for your records. Having everything in writing can help you if you there's ever a dispute over payments or if there's simply a mistake. Furthermore, you may need a record of your rent payments if you plan on using that information when you file your taxes. A Rent Receipt helps you document and keep organized when it comes to your most important asset.

Other names for this document: Rent Receipt Form, Rent Payment Receipt
Get started We make it simple to create a Rent Receipt.
Using Rocket Lawyer to file my incorporation documents was so easy and so simple.
- Nicole W. | Food Body M.E.
Rocket Lawyer customer