Free Pet Care Contract
If you wanted to open, say, a pet-sitting business that people really trust, you'd use a Pet Care Contract with every client. This kind of contract can place all parties' minds at ease. It clearly defines the duties of pet caretaker and defines what happens if the pet gets injured or sick.
Build your document
Save, Print & Share
Sign it & make it legal!
Get started
We make it simple to create a Pet Care Contract
Use the Pet Care Contract document if:
You're hiring a pet sitter for when you're at work or out of town.
You're providing pet sitting services to a pet owner.
<![CDATA[ ]]>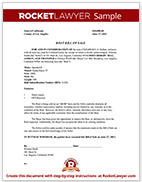 View Sample
Sample Pet Care Contract
More than just a template, our step-by-step interview process makes it easy to create a Pet Care Contract.

Save, sign, print, and download your document when you are done.
This document is sometimes called a Pet Sitting Contract.
Sample Pet Care Contract
Our step-by-step interview process makes creating a printable Pet Care Contract easy.
Make Document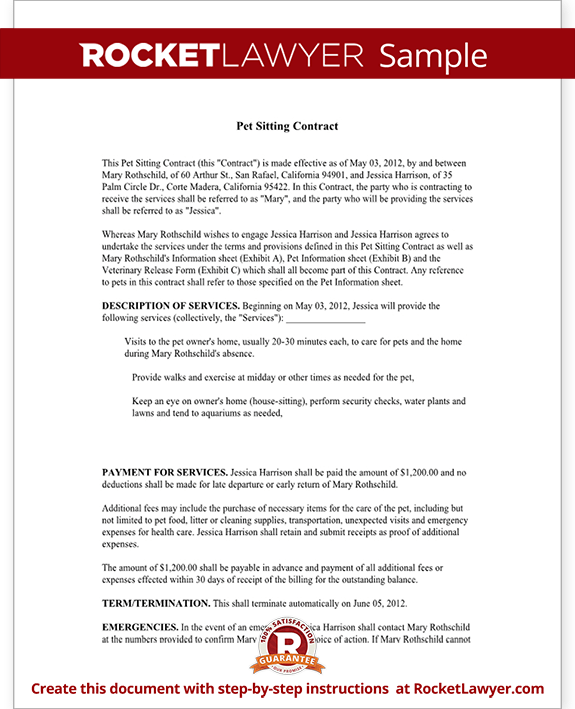 If you've been planning your vacation, you'll enjoy it even more if you know that your beloved dog or cat is protected by a Pet Care Contract. This is an agreement between a pet sitter and pet owner that makes clear what is expected of the pet's caretaker. This includes where and when your pet is looked after, payment rate, and who to contact if your pet falls ill. If your dog or cat were to be injured or become ill, a Pet Care Contract contains a Vet Release Form so the caretaker could take your furry friend to the vet. A Pet Care Contract also makes clear that the pet caretaker is an independent contractor. This relationship helps avoid tax concerns connected with employment.

Other names for this document: Pet Care Agreement, Pet Care Service Contract, Animal Care Contract
Get started We make it simple to create a Pet Care Contract.
Using Rocket Lawyer to file my incorporation documents was so easy and so simple.
- Nicole W. | Food Body M.E.
Rocket Lawyer customer