Free IOU Form
Whether you're borrowing money or providing a loan to someone else, an IOU Form is a great way to establish a record of the transaction and make sure that repayment terms, for example, are clear and fair. With an IOU Form, you can outline all of the terms and conditions of the loan, so be sure to get it done before money changes hands.
Build your document
Save, Print & Share
Sign it & make it legal!
Use the IOU Form document if:
You plan to loan money to another person or business, and would like to formalize the agreement.
You're looking to borrow money from a private party or a business, and you'd like to get all the terms in writing.
You're involved in a loan that includes interest, and you wish to prepare an amortization table for both parties.
You need a written record determining the amount of a monthly loan payment.
You've been asked to create a Promissory Note on behalf of a lender and borrower to outline the terms of a loan.
<![CDATA[ ]]>
View Sample
Sample IOU Form
More than just a template, our step-by-step interview process makes it easy to create an IOU Form.

Save, sign, print, and download your document when you are done.
Sample IOU Form
Our step-by-step interview process makes creating a printable IOU Form easy.
Make Document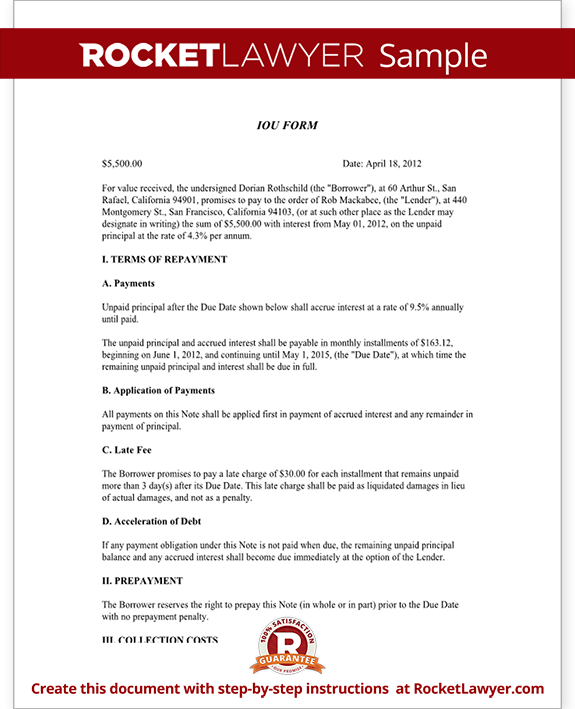 You can use an IOU Form to loan or borrow money, with or without interest. The Note lays out all the terms, rights and obligations of a loan, from the amount of the loan itself to the repayment plan. Your IOU Form should include information like: the amount and date of the loan; the names of the lender and borrower; the interest rate on the loan and its beginning date; how the loan will be paid (in installments of principal and interest, in installments of interest only, in one lump sum on a specific date, or due on demand); payment information such as number of payments, balloon amount, and frequency of installments; how you'll secure the promissory note; whether the lender can sell or transfer the loan to another party; and more. You may also want to include an amortization schedule to determine the proportion of interest to principal per payment.

Other names for this document: I Owe You Form, Debt Acknowledgement Form
Get started We make it simple to create a IOU Form.
Using Rocket Lawyer to file my incorporation documents was so easy and so simple.
- Nicole W. | Food Body M.E.
Rocket Lawyer customer