Free Farm Lease
When you've found a tenant for your farmland, you need a little more than a handshake to make sure your farm stays productive for years to come. With a Farm Lease, you can set down the expectations and obligations of both the landlord and tenant for the lease of the farm. Get started with our easy-to-use Farm Lease Agreement, and we'll help make sure you're on solid legal ground.
Build your document
Save, Print & Share
Sign it & make it legal!
Use the Farm Lease document if:
You own farm land that will be leased to a tenant.
You would like to rent farm land from a farmer or individual who does not have a lease form.
<![CDATA[ ]]>
View Sample
Sample Farm Lease
More than just a template, our step-by-step interview process makes it easy to create a Farm Lease.

Save, sign, print, and download your document when you are done.
Sample Farm Lease
Our step-by-step interview process makes creating a printable Farm Lease easy.
Make Document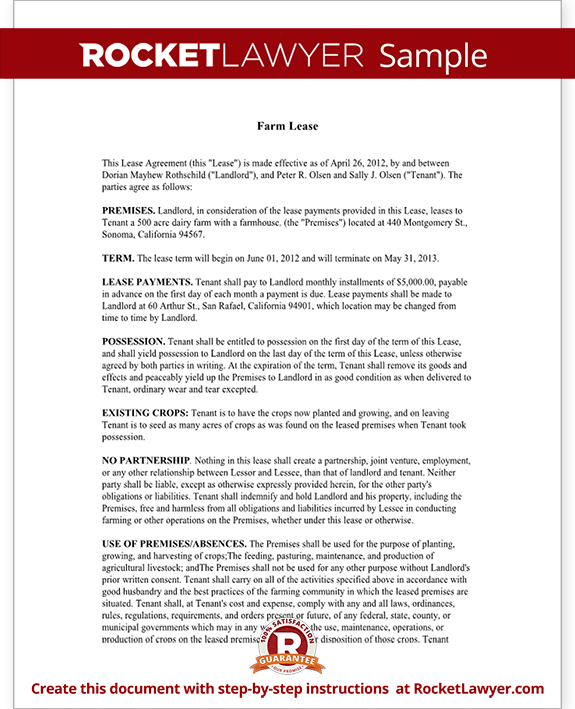 Leasing out your farm doesn't have to be complicated, but it's important to get the terms in writing. If you're the owner of farmland and a tenant farmer wants to lease farmland to grow crops or raise livestock, you'll want to create a lease agreement. By using this Farm Lease Agreement, you can define standard obligations of the landlord-tenant relationship, and go further by covering concerns unique to a farm rental. Farm-specific terms include proper maintenance and upkeep of the farmland and soil, and if you choose, special provisions to cover existing crops and liability in the case of disease or blight. You may also choose to include language favorable to the landlord, such as "No Partnership" clause that protects a landlord from legal liability for a tenant's financial obligations.

Other names for this document: Farm Lease Agreement, Farm Land Lease Agreement, Farm Lease Form
Get started We make it simple to create a Farm Lease.
Using Rocket Lawyer to file my incorporation documents was so easy and so simple.
- Nicole W. | Food Body M.E.
Rocket Lawyer customer