Free Corporate Minutes
Reviewed by Rocket Lawyer On Call Attorney Johann Chau, Esq.

Keeping regular Corporate Minutes helps you stay on top of your corporation's record-keeping requirements. It's not just about staying organized: up-to-date Corporate Minutes help maintain your corporation's limited liability status. Protect your company by creating Corporate Minutes for all your business' official meetings.

Build your document


Save, Print & Share


Sign it & make it legal!
Get started
We make it simple to create a Corporate Minutes
Use the Corporate Minutes document if:
You need to prepare a written summary of the items discussed, and the actions taken at a meeting of shareholders and/or directors of a corporation.
<![CDATA[ ]]>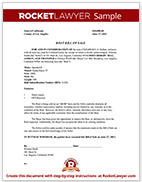 View Sample
Sample Corporate Minutes
More than just a template, our step-by-step interview process makes it easy to create Corporate Minutes.

Save, sign, print, and download your document when you are done.

Sample Corporate Minutes
Our step-by-step interview process makes creating a printable Corporate Minutes easy.
Make Document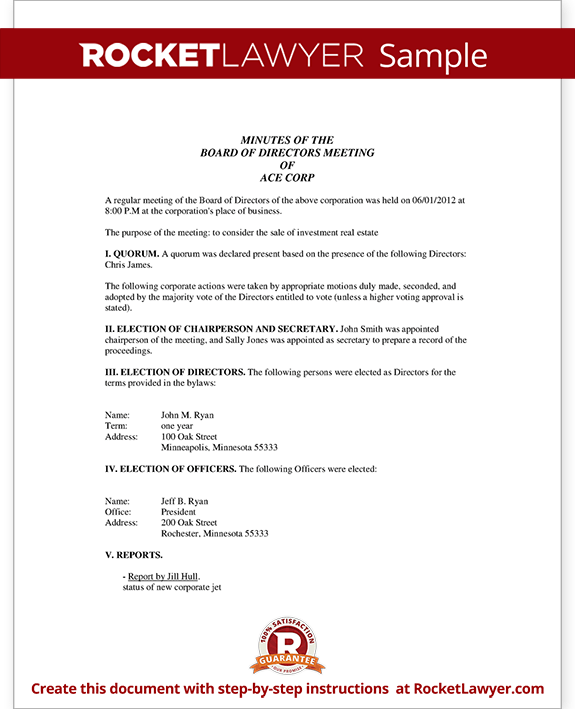 As a corporation, your company enjoys the protection of limited liability status. To maintain this status, all states require your corporation to meet certain business formalities (e.g. certain number of board meetings per year, separate corporate bank accounts). Corporate Minutes are how you record those official actions that maintain this status. Minutes are taken during a formal meeting of the board of directors or shareholders of a corporation. They're a written summary of what was done or talked about at formal meetings, including the official actions taken by the corporation. It's essential for your business to record Corporate Minutes for all official shareholder and board of director meetings.

Other names for this document: Meeting Minutes Format, Meeting Minutes, Corporation Minutes
Get started We make it simple to create a Corporate Minutes.
Using Rocket Lawyer to file my incorporation documents was so easy and so simple.
- Nicole W. | Food Body M.E.
Rocket Lawyer customer