Free Billboard Lease
When you've got room for a billboard and want to make a little extra money, a Billboard Lease is a smart way to make sure it gets done right.
Build your document
Save, Print & Share
Sign it & make it legal!
Get started
We make it simple to create a Billboard Lease
Use the Billboard Lease document if:
You own certain real estate property and would like to earn income through leasing out the premises to billboard owners for advertising purpose.
You would like permission to place a billboard on real property owned by another individual.
<![CDATA[ ]]>
View Sample
Sample Billboard Lease
More than just a template, our step-by-step interview process makes it easy to create a Billboard Lease.

Save, sign, print, and download your document when you are done.
This document is sometimes called a Lease of Real Property for Billboard.
Sample Billboard Lease
Our step-by-step interview process makes creating a printable Billboard Lease easy.
Make Document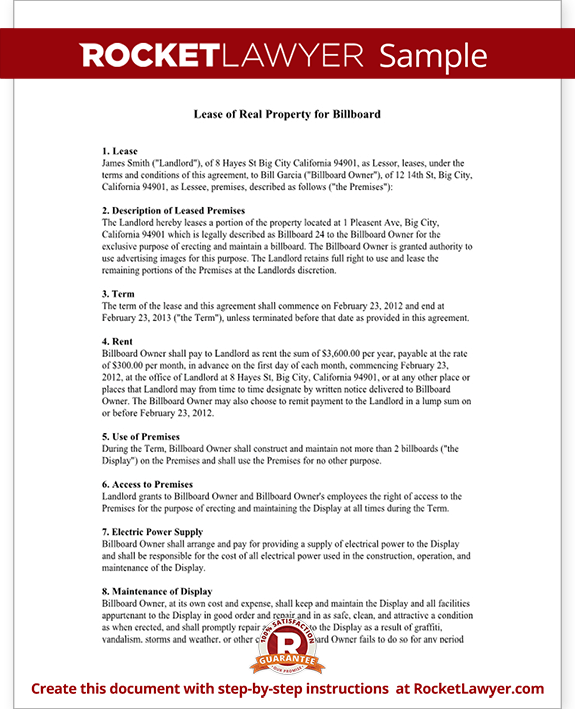 Imagine you've leased land to someone who's going to build and maintain billboards, and now the owner of the billboard wants to know whether you'll provide electricity to light it. A Billboard Lease will define all the nitty-gritty terms of your agreement. Its a contract between a landlord and a billboard owner. It addresses the specific concerns related to leasing property for the construction or maintenance of an advertising billboard. This includes access to the property, electrical power supply, and maintenance of the billboard. Other terms covered by the Lease include the duty of the billboard owner to comply with government regulations and their responsibility for taxes related to the billboard. A Billboard Lease sets outs each party's expectations and helps avoid any misunderstandings, which contributes to a happy landlord-billboard owner relationship.

Other names for this document: Billboard Rental, Billboard Lease Agreement, Billboard Land Lease Agreement
Get started We make it simple to create a Billboard Lease.
Using Rocket Lawyer to file my incorporation documents was so easy and so simple.
- Nicole W. | Food Body M.E.
Rocket Lawyer customer