Free Affidavit of Marriage
If you have a ring on your finger, but you've lost your marriage certificate, an Affidavit of Marriage can be used as evidence of your marriage. We'll help you legally swear to your married status with an Affidavit of Marriage.
An Affidavit of Marriage is typically used in place of a Marriage Certificate when the certificate cannot be located. Most often, you will be required to prove your marriage when applying for a foreign visa, applying for certain accounts and insurance. In the Affidavit, you declare you were legally married to your spouse on a particular date. The Affidavit of Marriage serves as your sworn statement that you are married. You can also use this document if you are divorced, but still need to prove your former marriage.
Sample Affidavit of Marriage:
Our step-by-step interview process makes creating a printable Affidavit of Marriage easy. If you'd like to see what your document will look like, see the Affidavit of Marriage template below. Click Start Now to create your own.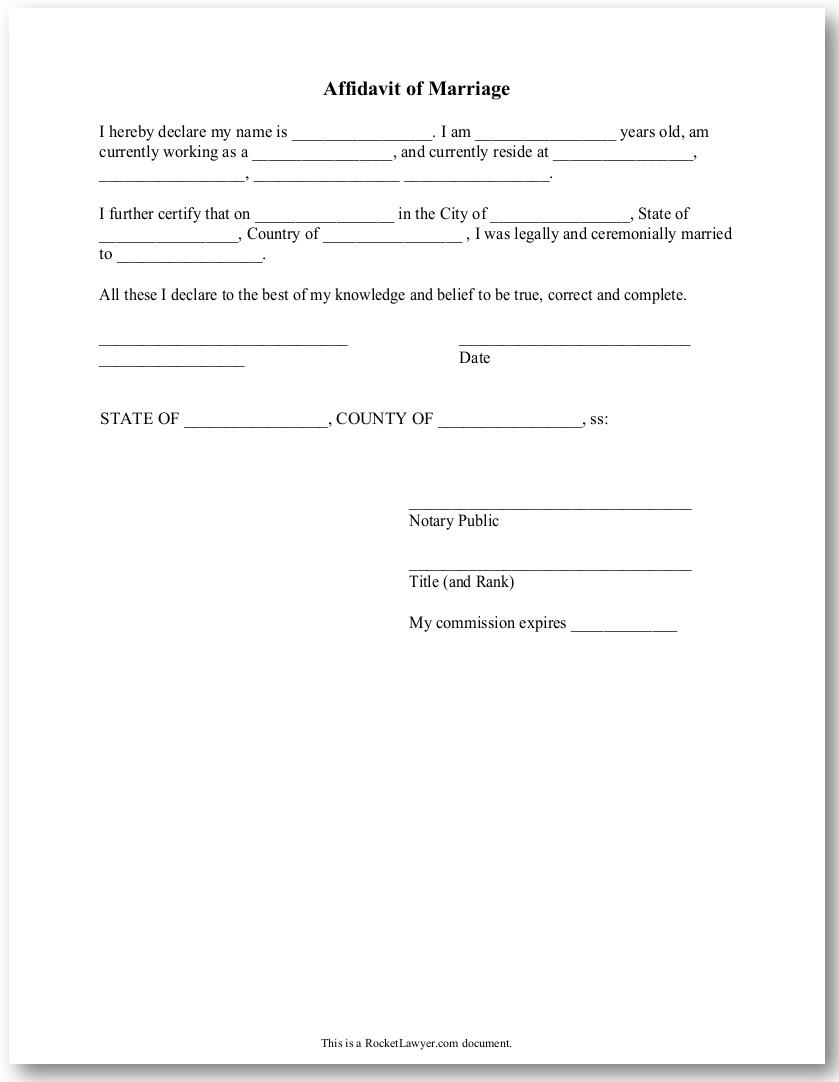 Sample Affidavit of Marriage. Click the start now button to create your own.
Use the Affidavit of Marriage document if:
You have received a request to verify, under oath, that your marriage is valid and you cannot locate your Marriage Certificate.
More Legal Documents and Forms
Related Help Articles
7 Ways to Bulletproof Your Business
Whether you're getting ready to start a new business, hire employees, or stay on the right side of the law, we've got the tools you need to run your small business.
Learn more »
Talk to a Lawyer

• Lawyers in your area

• Pre-negotiated hourly rates
Get connected