Like all NDAs, this Non Disclosure Agreement template exists to keep your company's confidential information confidential. When you're partnering with a consultant, hiring out for a web designer, or any other occasion when your business is getting outside help, you should absolutely get a signed NDA. After all, your secrets and innovations are what makes your company special. You should protect them as best you can.
This sample NDA template is for "John Doe's Widgets" and lays out the sort of information the recipient must keep confidential. Your personalized NDA should do the same.
Here's a sample: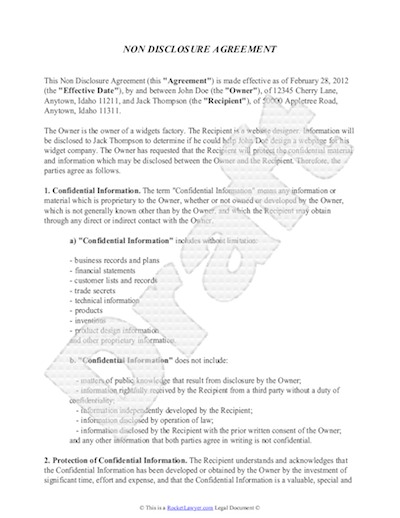 Non Disclosure Agreement template. To create your own personalized NDA, click on the link above.
No matter what the size of your business or your project, protect yourself. Non Disclosure Agreements are an easy and legal way to keep your trade secrets -- anything from an innovative recipe to your sales contacts -- confidential.

Looking for more? Here are a few additional sample documents you might find helpful: