Looking at a sample Bill of Sale for your car is a good way to learn what information you should include in your own, personalized car bill of sale. This bill of sale form is brief and, in most cases, will be all you need to make the sale of your used automobile legally binding.
In this car bill of sale template, you'll notice we've included the make and model of the car as well as the buyer and seller's name. The odometer reading is also included in this sample form as the odometer mileage is a legal requirement which must be included in your bill of sale when you sell your car. Don't worry though. Our car bill of sale template will ask you your mileage read-out as well as if your odometer is working correctly.
Here's a sample: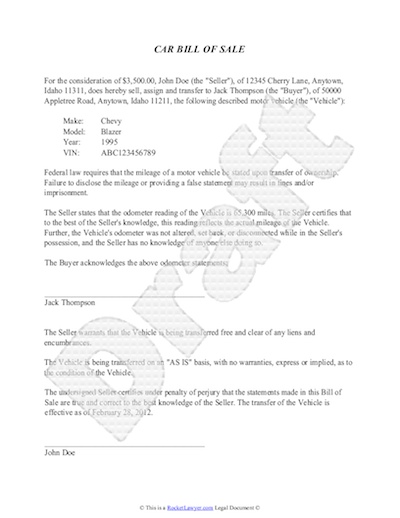 Sample Bill of Sale for Car template. To get your own personalized car bill of sale, click on the image above
Ready to sell your used car?
Get your own car bill of sale now
. And if you're selling a different kind of vehicle -- say a motorcycle, RV, or boat -- you should fill out a
Vehicle Bill of Sale
. Happy selling!
Looking for more? Here are a few additional sample documents you might find helpful: